Lance Armstrong Unlikely to Face Clawbacks
By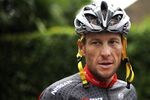 When Oakley severed its "long-standing relationship" with Lance Armstrong today, citing the the International Cycling Union's decision to strip the now former champion of his seven Tour de France titles, it was the last big domino to fall in Armstrong's sponsor lineup. The biggest, Nike, fell last week. Anheuser-Busch InBev, Trek bicycles, and energy supplement makers FRS and Honey Stinger have also dropped Armstrong. Burns Entertainment & Sports Marketing, which tracks endorsement income for U.S. celebrities, estimates that Armstrong made $15 million to $18 million from endorsements in 2011, with $8 million to $12 million coming from Nike. Next year, unless there are companies looking to get behind a disgraced hero, that figure will be close to zero. The tens of millions he has already pocketed, however, are probably not going back to the sponsors.
While so-called "morals clauses" are standard in athlete endorsement deals and would potentially open Armstrong to claims against his past earnings, clawbacks are unlikely, says Brian R. Socolow, an attorney at Loeb & Loeb who specializes in contract and sports law. "There are probably few companies that would want to spend that time and money to go about that process," he says. The strength of morals clauses varies depending on the negotiating power of the athlete. With a run-of-the-mill pro, companies will give themselves outs for anything they feel brings moral disrepute. For a big-time star, everything short of a felony conviction is often allowable. As a worldwide celebrity, Armstrong would have had a strong hand. Plus, if he was doping, as it now appears he was, then he knew it. Socolow guesses Armstrong was "able to demand very specific language" addressing any forthcoming doping allegations. "The language probably would have said something to the effect of, any allegation that Lance Armstrong has engaged in doping is not sufficient for a breach of this morals clause without an admission by Lance Armstrong or a final verdict or decision by a court of law after all appeals have been exhausted." This would help explain his continued denials.
Even if Armstrong didn't get such allowances, there's little incentive for Nike or others to come after him now. "By doing that," says Socolow, "they are really emphasizing their relationship with him and having it become public exactly how much he was paid, for how long … with the possibility that they would be subject to claims that they knew about doping but turned a blind eye to it." Bonuses tied directly to his Tour victories, as ESPN has reported, may be another matter.
Before it's here, it's on the Bloomberg Terminal.
LEARN MORE