Could 'Earthy, Complex' Coffee Help Save Yemen?
The country needs an economic boost
By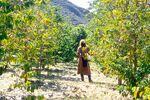 Yemen has some serious troubles, including hunger, water shortages, and running battles with Al Qaeda of the Arabian Peninsula. The U.S. and Saudi Arabia are propping up the Yemeni government so its territory doesn't become a launching pad for Al Qaeda terrorism. On Oct. 18, the State Department brought a delegation of Yemeni businesspeople to Bloomberg's New York headquarters to discuss their desire to attract U.S. investment. What's one thing that they said could help lift Yemen's fortunes?
Coffee. The Yemeni city of Mocha is one of the world's oldest sources of coffee beans. The website Specialty Coffee Advisor has this to say: "Yemen coffees are the epitome of a 'wild cup' and can border on scary at times because of their deep, earthy, complex pungency with overlays of dry fruit (think raisin), cardamom, dry cinnamon, and tobacco notes."
The Yemeni government is encouraging farmers to plant coffee instead of qat, which is the unofficial national drug of Yemen. The leaves of the evergreen qat bush are chewed as a stimulant. Qat is legal and not strongly addictive, but chewing it is a huge time-waster, and its cultivation contributes to Yemen's severe water shortage.
Suppressing qat won't be easy. According to the U.S. Agency for International Development, "qat provides employment to one in seven working Yemenis." At lunch with Bloomberg reporters and editors, the U.S. ambassador to Yemen, Gerald Feierstein, said the coalition government that has ruled Yemen since the Arab Spring revolution is taking the country's qat problem seriously and moving toward helping farmers find replacements.
Coffee is an obvious replacement because it grows in the same mountain climate. It also has good export potential. Al-Ezzi Industries, based in the Yemeni capital of Sanaa, is one company that already grows and exports coffee beans. It encourages farmers to plant coffee instead of qat. One disadvantage: Like qat, coffee requires a lot of water to cultivate.
Yemen, heavily dependent on foreign aid, needs to do something fast to earn some money. Oxfam International calculates that one-third of the population doesn't have enough food, and 60 percent of young children have stunted growth.
Before it's here, it's on the Bloomberg Terminal.
LEARN MORE