Num Pang Chef Ratha Chaupoly's Office Bag Lunch
By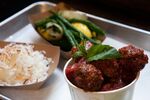 Cambodian-born Ratha Chaupoly says he inherited his mother's instinct to feed people—all the time. As a restaurant owner, he's fed hoards of New Yorkers, who line up at Num Pang for Cambodian-inspired sandwiches stuffed with such delicacies as tiger shrimp and pork belly. Named New York's best sandwich shop by Zagat, Num Pang will open a third restaurant this winter in the city's Flatiron District.
Chaupoly offers Bloomberg Businessweek a recipe for veal meatballs with hoisin sauce served over rice. For those unfamiliar with hoisin, the sweet and salty glaze is like "Chinese barbecue sauce," often used on meat, fish, and noodles. "I always like meatballs sweeter than the 'traditional' meatballs in America, so I use hoisin and Thai basil," he says. Add a side of grilled zucchini and long beans if you crave vegetables.
Ingredients
Serves 2
2/3 lb. ground veal
1-1/3 tbsp hoisin sauce
1-1/3 tbsp cooked jasmine rice
3.5 oz. canned tomatoes
1/3 yellow onion, halved
2/3 tbsp salt
1 tbsp sugar
1/3 tbsp ground black pepper
1/3 cup Thai basil
Olive oil
Jasmine rice (cooked)
Fish sauce (optional)
Instructions
1. In a large mixing bowl, combine ground veal, cooked rice, hoisin sauce, half of the basil, salt, sugar, and black pepper. Mix well. Let sit for 20 minutes before rolling into meatballs about 1-1/2 inches wide.
2. In a large pot, pour whole can of tomatoes and let simmer.
3. In a large skillet pan, heat up olive oil on medium heat. Place meatballs and cook to brown about 8 to 12 minutes on low heat.
4. Add browned meatballs to simmering tomatoes, including oil. Add onions and let stew for 30 to 45 minutes on low to medium heat or until lightly thickened.
5. Add rest of basil and serve over jasmine rice.
6. (Optional) Drizzle with fish sauce.
Before it's here, it's on the Bloomberg Terminal.
LEARN MORE