MBA Interns Seeking Job Offers Breathe a Sigh of Relief
Alison Damast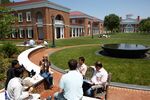 In a year when many business schools were expecting the worst, the number of second-year MBA students returning from their summer internships with jobs offers in hand appears to be holding steady with last year's recruiting season, according to career officers at some of the country's leading MBA programs.
Of the top 30 U.S. MBA programs contacted by Bloomberg Businessweek, six said that internship-to-job conversion rates are about the same or better than a year earlier, while eight others said they anecdotally expect the number of job offers to be similar or slightly improved. The remaining schools said they don't have the data available yet, or that they don't collect this information.
Despite the relatively rosy outlook, career officers said there have been some notable changes in this year's recruiting season. Many large corporate employers are delaying making job offers until September, or even October in some cases, to better assess their hiring needs and to give students less time to shop around for other offers. Some schools said they have noticed that the financial-services sector is not as strong as last year, with big investment banks doling out fewer job offers. Balancing that out is an uptick in offers from consulting firms, which are extending more offers to students as a result of many expanding their summer internship programs in recent years.
(Story continues after the table.)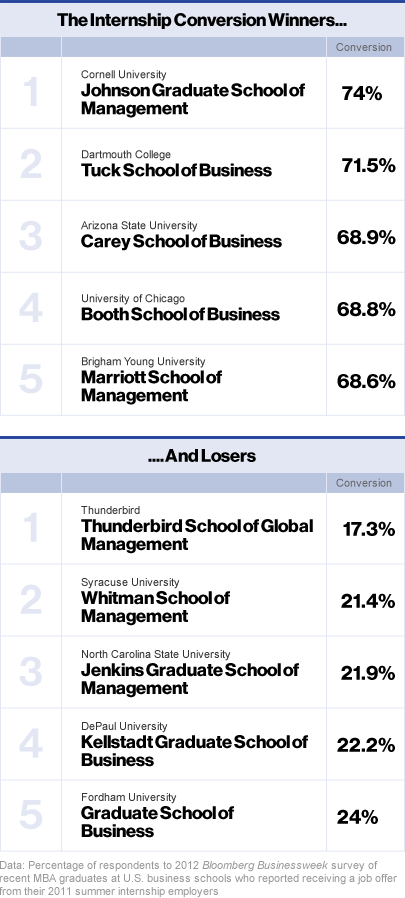 At the University of Virginia's Darden School of Business, only about 30 percent of students have formally reported receiving offers from their internships, but career services director Jack Oakes said preliminary student surveys show that number to be more in the ballpark of 60 percent, similar to a year earlier.
"I expect that at least 60 percent if not more have come back with offers, so it could be an even stronger year," Oakes said. "We are seeing a very significant increase in the percentage of students who get their full-time opportunities from their internships."
If those numbers hold steady, schools should be on target to have a recruiting season similar to last fall's, when many students came back to school with job offers in hand. According to a student survey of 2012 MBA graduates by Bloomberg Businessweek conducted over the summer, 47 percent of students at the 115 schools that responded to the survey reported getting a job offer as a result of their summer internship, although conversion rates at some schools were far higher—and lower (see table).
Although most of the data on converting internships to job offers is still preliminary this year, early numbers are starting to trickle in from some schools. For example, about 35 percent of students at the University of Minnesota's Carlson School of Management have reported offers so far. At Emory University's Goizueta Business School, about 50 percent of students have come back with offers, though a number of students are still waiting to hear, said Wendy Tsung, the school's executive director of career services. About 60 percent of students with internships at University of Notre Dame's Mendoza College of Business received full-time job offers, up about 5 percent from a year earlier.
With big banks slashing head count at a furious pace earlier this year, those numbers could have been a lot worse. "Contrary to popular opinion, there is a lot of strength in MBA hiring," said Patrick Perrella, Mendoza's director of career development, in an e-mail.
That may be true, but this fall many companies are keeping their summer interns in suspense by engaging them in a waiting game about their futures. Some are making students who interned at their companies wait a few weeks, or even a month or two, before letting them know if they received a job offer, several schools reported, including the Carlson School and Duke University's Fuqua School of Business.
Steven Rakas, executive director of the career opportunity center at Carnegie Mellon's Tepper School of Business, said he also has picked up on this trend. About 40 percent of students have reported job offers from their summer internships, which is at a "very comparable rate to last year," he said. However, last summer, more students returned in August to campus knowing they had a full-time offer, he noted.
"It was noticeable this year that more companies were not letting students know of their decision till after they were back on campus," Rakas said. "They were telling students, 'We'll get back to you in four or six weeks.'"
Financial services is another area where companies are treading carefully this fall, career officers said. So far, about 40 percent to 45 percent of students at the Johnson School have returned with job offers from their summer internships. That is down about a percentage point or two from a year earlier, said Fred Staudmyer, director of the school's career management center, in part because of weaker hiring from financial-services firms. However, many consulting firms are picking up the slack.
"The banks are not hiring as aggressively as they did because the investment banking business is not as robust as it has been pre-financial debacle," he said. "Banks are being a little more careful and are hiring somewhat fewer people."
Join the discussion on the Bloomberg Businessweek Business School Forum, visit us on Facebook, and follow @BWbschools on Twitter.
Before it's here, it's on the Bloomberg Terminal.
LEARN MORE