As Nokia Siemens Shrinks the 4G Network, Its Prospects Grow
Kevin Fitchard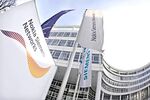 While Nokia's struggles continued in the third quarter, its oft-ignored infrastructure joint venture with Siemens actually had some good news to report. Nokia Siemens Networks posted a record profit of €323 million ($424 million), all thanks to recent successes in LTE equipment sales—a market that NSN was struggling to compete in just two years ago.
Big LTE wins in Japan and Korea have turned Asia into NSN's biggest market region, surpassing Europe and accounting for €1.27 billion of its €3.5 billion in sales last quarter. What's more, some of these Asian deals make use of some of LTE's most sophisticated capabilities. SK Telecom is building an LTE-Advanced network that incorporates new small cell and self-optimizing network (SON) technologies unseen on any other 4G network globally.
NSN has tried to cultivate that burgeoning reputation of being on the cutting edge of 4G. In recent weeks it's launched a slew of new services and products, all designed to transform the network from today's grids of spaced-out towers into future heterogeneous networks. These HetNets will combine big and small cells, mix and match different radio technologies ranging from cellular to Wi-Fi, and provide a dense layer of capacity under the macro network's coverage umbrella.
These technologies, which NSN calls Flexi Zone and Liquid Net, may sound like strange engineering concepts, but Nokia Siemens is trying to define them in ways that have meaning to the average consumer. It's set a goal of creating a network architecture that will increase the overall capacity of our mobile networks by 1,000 times. Simultaneously, the cost of delivering that capacity will drop to the point that the typical consumer can increase his or her data usage by a factor of 10 for the same costs he or she pays today, said Bill Payne, NSN chief technology officer for North America.
"We're saying by 2020, we'll have 1 GB per day per user for under $1 in cost," Payne said. That amounts to 30 GB a month for $30, which is the price a typical U.S. consumer pays for a 2 GB to 3 GB data plan (though he or she actually consumes less than 1 GB each month).
Talking about a 1,000-times increase in network capacity is nothing new. NSN's archrival Ericsson has been talking up the concept for years and Qualcomm recently detailed the chip vendor's own "1000x challenge" in a GigaOM post. But NSN is laying out a detailed path on just how the industry gets there. According to Payne, the industry will achieve that kind of capacity in three stages:
• A 10-times increase from better cellular technologies. "The first order will be spectral efficiency," Payne said. "It's the logical starting point because that's the work people in this industry have been doing most of their professional lives." CDMA and HSPA networks are giving way to LTE networks, which will themselves give way to LTE-Advanced networks. There are limits to how the industry can innovate in this direction, though—only so much data can be shoved into a hertz of spectrum, Payne said.
• A 10-times increase from new spectrum. While this aspect is out of NSN's control, carriers worldwide are working with regulators to devote new airwaves for mobile broadband. AT&T just cleared its 2.3 GHz licenses for LTE use, and the Federal Communications Commission is working to clear more broadcast spectrum for cellular use. Dumping more frequencies into our networks may not be the most elegant solution, but it's definitely the direction most carriers would rather grow in.
• A 10-times increase from small cells. Changing the fundamental topologies of our networks will allow carriers to make that final critical leap to 1,000-times, Payne said. The principle is a simple one. By putting 10 cells in the space occupied by a single big one, you get close to a 10-times increase in capacity. By layering in Wi-Fi and other radio technologies, you get even bigger gains. And by creating a network in which a single device can link to multiple radio nodes, the capacity consistently available to individual users increases dramatically.
NSN is pushing its LTE-Advanced and HetNet concepts hard, promising its customers that it can not only build their 4G networks today but turn them into the 4G networks of tomorrow. In Arlington Heights, Ill., it's built a live small cell network using public safety spectrum to test the HetNet's performance in real-world environments.
Its efforts seem to be paying off. Though Ericsson and Huawei still dominate the global telecom infrastructure market, ABI Research recently ranked NSN the world's leading vendor in LTE contracts, intellectual property, and, most notably, its progress in small cells.
Also from GigaOM:
The Evolving Mobile Network: From Slide-Deck Presentations to Deployment (subscription required)
Polar Mobile Arms Publishers With MediaEverywhere HTML5 Tool
SolarCity Scores First Utility Deal and Why That's Important
Video Hands-On With Google's New $249 Chromebook
What Media Companies Can Learn From the Japanese Car Industry
Before it's here, it's on the Bloomberg Terminal.
LEARN MORE