Are We Better Off? 'I Learned a Lot From the Financial Meltdown'
Jared Keller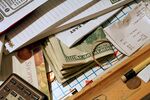 As part of our special Election Issue, we're asking Bloomberg Businessweek readers to tell us: Are we better off than we were four years ago?
Submit your story on Facebook or through our Tumblr, or leave your response in the comments section. We'll feature our favorites in future posts on this blog.
Earlier this week we posted positive and negative assessments of the state of the nation. Today more readers evaluate the recession's impact on their lives.
"Your article says that the world is more complicated today than it was 30 years ago. I was only 4 years old in 1980, but I doubt that the world was less complicated then than it is now. People just forget everything as time passes. But I am making more money now than I did in 2008 and am investing my money for a better future. I've learned a lot from the financial meltdown in 2008-09. … Unfortunately many Americans haven't learned anything."
"Four years ago I was working full time in construction, and while I was aware of the collapsing housing market, I did not expect it to be this bad. Today I have two part-time jobs and am barely holding my head above water. My landscaping business is dead in the water, too, with no sign of recovery in sight, but I am refusing to close it. Still, I will vote for Obama.
"I haven't kept track of my local economy scientifically. A friend, however, is a larger landscaper than me with a small dump truck, larger trailer, and bigger mowers—and he had to go out and get a full-time job with an even larger landscaper who has a highway contract with the electric company. He's not happy to go from self-employed professional to employee. We don't see an improvement coming this fall or next spring.
"Both pizzerias where I delivered are hurting badly (I guess that's an accurate description if one is behind on the rent). My younger brother is doing fantastic, but he's a corrections officer. My sister is a nurse practitioner, so she is also doing well. But unless you're in the health-care, police, or teaching fields, you are probably hurting in one way or another.
"Bottom line: People delivering pizza or flipping burgers are not buying houses. So I'm not getting calls for home projects, painting, or lawns. The housing market is not going to move until we have people back to work. But what I'd really like to see is an expose on all the illegals who work in landscaping, construction, dishwashing, restaurants, etc., who are mostly working for cash. When I was in high school, my first job was as a dishwasher for Friendly's, and I got a paycheck! I contributed to payroll taxes, including SS, MEDI, MEDICAID, UI, etc. Where's the outrage there over lost tax revenue?"
"Being somewhat of a student of financial history, as both sets of grandparents lost their farms in North Dakota during the Depression in 1935, I have always planned for the worst to occur. This mainly involved a fiscally conservative lifestyle, sound decision making, paying cash for the most part except when it came to purchasing a home, and saving up to 15 percent of my take-home salary. I worked as an engineer in the nuclear power field and for the majority of my career was extremely well paid. I was also an ROTC grad and served in the U.S. Army Corp of Engineers, including the Vietnam War, which gave me a large nest egg. My lifestyle allowed us to pay cash for our daughter's college education and provide her with an automobile at graduation. I invested in the stock market until 1975 and got out. I only got back in around '88 and got out again in late 2007, with only an 11 percent loss. We have since made that up and are once again ahead of the "game" with conservative investments. The keys to our success appear to have been an engineering degree from a respected West Coast college, U.S. Army Officer, a fiscally conservative life style, working in a basic industry, including nuclear power, and very good decision making."
"I too expect to be better off four years from now regardless of who is elected, because I am currently pursuing a graduate degree, and unlike when I was pursuing an undergrad, I have a clear picture of where I want to be working and who I need to talk to to get there."
Franck Dossa:

"Four years ago my clients didn't want to buy, fearing that their money in escrow accounts [would] disappear if the banks failed. The talk of the year was the $100,000 FDIC maximum coverage per bank account.
"Today our real estate market in Miami is booming. I will not accept a new client unless you were recommended to me. Four years ago I would have polished your shoes just because you were looking for a cheap rental.
"Just one question: Who is talking about FDIC recently?"
Are we better off? Submit your story on Facebook or through our Tumblr, or leave your response in the comments section. We'll feature our favorites in future posts on this blog.
Before it's here, it's on the Bloomberg Terminal.
LEARN MORE