pursuits
Office Upgrade: The Wooden Keyboard
By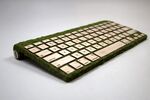 What it is: A converted Apple wireless keyboard
Cost: N/A
New York Designer Robbie Tilton loves textures. New technology, in that sense, has disappointed him. "Tech products are often built in a clean, glass, pristine style," he says. "They're not touchable. Tactilely, they are not that interesting."
Over two weeks, the 25-year-old graduate student at New York University's Interactive Telecommunications Program fashioned an Apple wireless keyboard with a textured, inspired-by-nature aesthetic. It quickly drew attention from design websites. Tilton says users are attracted to the contrast in materials—the keys are made of wood, and the surface is covered with imitation moss he bought from Games Workshop, which sells materials for model battlefields. "You want to reach out and rub it a little bit," he says. To appear familiar to Apple users, the keys were printed using a font called VAGRounded-light. The prototype is fully functional, but Tilton is still making adjustments. The keyboard is not yet available for purchase.
For now, consumers seeking an outdoorsy touch will just have to put their keyboards in wood trays, like this one from Canadian design firm Hekseskudd, or cover each key with woody decals like these.
Before it's here, it's on the Bloomberg Terminal.
LEARN MORE