MBA Alumni in the News: Oct. 18
Louis Lavelle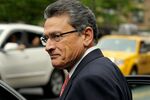 Each week Bloomberg Businessweek brings you an update on how MBA alumni from top business schools are making news—the good, the bad, and the ugly. This week graduates from Harvard, Wharton, Kellogg, and Cornell were among those making headlines.
Expensive Favor: JPMorgan chief executive and Harvard Business School MBA graduate Jamie Dimon said the bank did the government a "favor" by buying the crippled Bear Stearns in 2008, one that may have cost his company as much as $10 billion. "And yes," Dimon said at a Council on Foreign Relations event in Washington, D.C., "I put it in the unfair category."
Accusations Fly: Revlon is paying $9.2 million to resolve claims that Ron Perelman, its controlling shareholder and a 1966 Wharton MBA alumnus, shortchanged investors in a share-exchange deal. The investors said Perelman sought to acquire the shares at an unfair price.
No Prison Time: David Loglisci, the former chief investment officer for New York's pension fund, was sentenced to a conditional discharge for his role in a kickback scheme that sent former State Comptroller Alan Hevesi to prison. Loglisci, a 1998 MBA graduate of Notre Dame's Mendoza College of Business, faced up to four years in prison.
Heads Will Roll: Siemens CEO Peter Loescher, a 1985 MBA graduate of the Vienna University of Economics & Business Administration, may cut as many as 8,000 jobs in a global cost-cutting effort.
Hot Water: Blackstone Group President and Harvard MBA graduate Tony James was implicated in an LBO bid-rigging complaint. According to the complaint, top executives from Blackstone, KKR, Carlyle Group, and Bain Capital conspired to rig bids on 19 leveraged buyouts and eight other transactions.
Off to a Great Start: Shares of Workday, a maker of Web-based human resources programs, surged in their first day of post-IPO trading. The company was founded by Dave Duffield and Aneel Bhusri, MBA graduates of Cornell's Johnson Graduate School of Management and Stanford Graduate School of Business, respectively.
Charges Dropped: Charges against Morgan Stanley's William Bryan Jennings, a Kellogg MBA graduate accused of stabbing a New York City cab driver over a fare, were dropped. Jennings was accused of attacking the driver after a 40-mile ride from New York to Jennings's $3.4 million home in Darien, Conn.
Supersize Me: The American Beverage Association filed suit to stop New York City Mayor Michael Bloomberg's ban on large sugary drinks, scheduled to go into effect in March. A spokesman for Bloomberg, a Harvard MBA, called the suit "baseless." The mayor is the founder and majority owner of Bloomberg LP, the parent company of Bloomberg Businessweek.
Collateral Damage: UBS CFO Tom Naratil, a 1990 MBA graduate from New York University's Stern School of Business, said the bank fired 550 employees after a $2.3 billion loss on unauthorized trades last year. The bank's shares fell 10 percent on Sept. 15, the day the loss was announced. Naratil's comments came in testimony at the London trial of Kweku Adoboli, the trader accused of causing the loss.
Friends in High Places: Microsoft Chairman Bill Gates and U.N. Secretary-General Kofi Annan were among more than 200 people urging mercy for Rajat Gupta, a 1973 Harvard MBA convicted in a massive insider-trading scheme. Gupta faces up to 20 years in prison when he's sentenced on Oct. 24 for leaking stock tips to Galleon Group co-founder Raj Rajaratnam, the 1983 Wharton MBA who masterminded the conspiracy.
Staying Put: Softbank, Japan's third-biggest mobile phone operator, said it's buying a 70-percent stake in Sprint Nextel for $20.1 billion, as Sprint CEO Dan Hesse struggles to fix the company's problems. Hesse, an MBA graduate of Cornell's Johnson School,  will retain his position after the deal.
Moving Out: Henri Proglio, CEO of Electricite de France and MBA graduate of HEC Paris, resigned as director of Veolia Environnement, the world's biggest water utility.
Join the discussion on the Bloomberg Businessweek Business School Forum, visit us on Facebook, and follow @BWbschools on Twitter.
Before it's here, it's on the Bloomberg Terminal.
LEARN MORE