How to Address Your Shell-Shocked Troops, by Michael Corbat
Citigroup's new CEO aims for affability.
By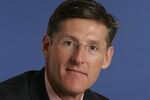 Vikram Pandit's chair may still have been spinning on Wednesday when the man chosen to replace him atop Citigroup, Michael Corbat, began a conference call with the bank's managing directors. The abrupt CEO switch one day earlier had been followed by precious little information: short notes from the two men, a conference call with analysts, and a lot of conspicuous silence from the company's board. Wednesday's call was Corbat's first effort to address the most important employees of what is perhaps the most beleaguered bank.
The seven-minute call, a recording of which Citigroup provided to Bloomberg Businessweek, offers a preview of how Corbat will lead—in style, at least. The former Harvard football star, who's well liked by colleagues and even regulators, followed these tactics:
Be frank. The first thing Corbat did was acknowledge the elephant in the room: the shock of Pandit's departure just one day after Citi had announced its third-quarter earnings, with not even a hint given that he was on the brink of leaving. Citi employees found out with the rest of the world when the news broke in the media, not via an internal communication. "I know that yesterday's news came as a surprise probably to many of you," Corbat began. "Successions are not easy, but I know we can handle this."
Thread the needle. Pay lip service to both staying the course and the need for change. "I think it's all-important for everyone to know that I'm going to maintain the company's fundamental strategy," Corbat said, while nodding to "today's challenging environment" and the need for flexibility.
Encourage questions. Pandit, with two engineering degrees and a doctorate, was criticized as a cerebral introvert who was perhaps not cut out to be the face of a global bank, especially one with morale issues. Corbat, who has spent his entire 29-year career at Citi and its predecessor companies, quickly invited the troops to speak up.
Be good-natured when people are too freaked out to ask any. After some silence, an MD asked Corbat when he would choose a new chief of the bank's Europe, Middle East, and Africa business. After some more silence, it became clear that no one else was going to raise a hand. "So," Corbat said, "I'm sure there are questions, but I understand potentially people's hesitancy in asking. So what I'll say is that if you do have questions, feel free to send an e-mail. … I think that questions are fair. So please feel free to ask them."
Before it's here, it's on the Bloomberg Terminal.
LEARN MORE