How to Address Your Shell-Shocked Troops, by Michael Corbat
Citigroup's new CEO aims for affability.
By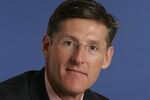 Vikram Pandit's chair may still have been spinning on Wednesday when the man chosen to replace him atop Citigroup, Michael Corbat, began a conference call with the bank's managing directors. The abrupt CEO switch one day earlier had been followed by precious little information: short notes from the two men, a conference call with analysts, and a lot of conspicuous silence from the company's board. Wednesday's call was Corbat's first effort to address the most important employees of what is perhaps the most beleaguered bank.