Google Edges Facebook in Software Engineer Pay Survey
by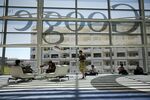 If you're a software engineer at a top-flight tech firm and you make less than $92,000, you probably should go ask for a raise.
That's because the 2012 average for a software engineer's base salary is $92,648, according to a new survey from Glassdoor, the jobs-information website, which received salary data from more than 5,000 employees at 15 tech companies.
The most generous employer among the 15 surveyed was Google, which paid software engineers an average base salary of $128,336. That was slightly higher than Google's arch rival Facebook, which was in second place at $123,626. The top five were rounded out by:
• Apple, $114,413
• EBay, $108,809
• Zynga, $105,568
(Don't you love how specific these numbers are?)
Of course, base salary is often only one component of overall compensation. Bonuses, stock grants, options, and other financial vehicles can multiply that number in some cases. And then, of course, there are the perks. The Glassdoor survey includes comments from employees that refer to extras like "free, gourmet meals," "STOCKS :)" and "massages."
It's a tidy sum of cash—all the more so when you think about who's getting it: While first-year associates at large law firms may pull down more ($160,000 seems to be the average for top-level firms), those people are usually a bit older, having attended law school for three years. Furthermore, spending three years in law school can generate a significant amount of debt (though many firms will assume that debt if the associate advances within the firm).
But when you're an entry-level software engineer, earning $100,000 is like hitting the lottery. For starters, you're probably 21 or 22 years old, which means you're still basically a child—except now you have more money than you know what to do with. And, since a graduate degree is not required to code, you may not have as much debt hanging over your head.
Oh, and you're probably working 70-plus hours a week, eating all that free food, and enjoying those perks that keep you in the office for the majority of your waking life, so it's not like you're putting the top down on the Porsche every night and ordering up bottles of Ace of Spades at the club.
But when those software engineers do find the time to cut loose? Watch out, Mountain View, things are about to get OFF THE CHAIN.
Before it's here, it's on the Bloomberg Terminal.
LEARN MORE