Why Softbank's U.S. Ambitions May Not Include Clearwire
Kevin Fitchard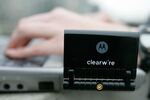 Analysts and investors alike have been speculating that a central component to Softbank's deal to take over Sprint was the welcoming of Clearwire back into the Sprint fold. But news reports are now throwing cold water on that theory.
Bloomberg, citing unnamed sources, reported that Sprint has no immediate plans to take over the remaining 52 percent of the 4G data carrier it doesn't already own. The news sent Clearwire's stock tumbling after several days of riding new highs on news of the Sprint-Softbank deal.
So why the fuss about Clearwire? The company has struggled mightily since its nationwide WiMAX rollout came to an abrupt halt in 2010 while the rest of the mobile industry threw its lot in with LTE. The company has since announced plans to deploy its own variant of LTE, called time-division or TD-LTE. Ostensibly that new network is going up right now, but Clearwire has been known to promise networks that fail to appear.
Clearwire needs both cash and customers to realize its network ambitions, and it might still be hoping that a Softbank deal with Sprint is the key to both. In Softbank, Clearwire has found a kindred soul. The carrier is pursuing its own TD-LTE buildout in Japan, using the exact same 2.5 GHz band as Clearwire. The two are already partners in a global TD-LTE consortium—along with China Mobile and India's Bharti—tasked with creating a handset and device ecosystem for their pet technology. A three-way marriage between Clearwire, Sprint, and Softbank would only further those goals.
Sprint's relationship with Clearwire has always been dictated by cash. But with an $8 billion cash infusion from Softbank, Sprint could buy Clearwire outright and build the fattest LTE pipe in the country with Clearwire's treasure trove of spectrum. That's the theory, anyway.
The thing is, the so-called TD-LTE synergies of such a deal have been overstated. Buying and investing in Clearwire would definitely give TD-LTE a big boost and ensure that the technology had a place in the U.S., but that's an awfully steep price to pay for what amounts to a vote of confidence. Softbank can build its device ecosystem just as easily by partnering with other carriers. And if the only way of keeping that global TD-LTE dream alive is to purchase struggling international operators, then Softbank may want to reconsider its technology choices.
Customers could roam between Japanese and U.S. TD-LTE networks, but a roaming agreement is hardly the basis for an acquisition. And while there might be device compatibility in TD-LTE, the remaining 2G, 3G, and 4G networks and bands Softbank and Sprint-Clearwire use have absolutely nothing in common. It's not like Sprint handsets are going to work on Softbank's Japanese networks or vice versa—at least not until voice-over-LTE services are in full swing.
Softbank could feel there are other ways Sprint can use that cash to get the future capacity it needs, either by bidding in future 4G auctions or through other strategic acquisitions. Maybe Clearwire is ultimately part of Softbank's U.S. ambitions, but it would be a mistake to assume that the two are natural fit just because they're pursuing the same LTE technology.
Also from GigaOM:
Updated: Forecast: Global Mobile Subscribers 2010-15 (subscription required)
Cloudstack Strikes Back in the Battle of Open Source Clouds
Green Clouds Are All About Scale
Batten Down the Analysts, It's a Big Data-BI Storm
Before it's here, it's on the Bloomberg Terminal.
LEARN MORE