One Idea for Crime-Prone 'Hoods: Fill Them With Fake Crowds
An artist uses special effects to make dangerous public areas appear like bustling marketplaces.
By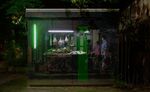 Bad guys like to strike in the dark. That's a problem in cities like Eindhoven, whose poorly lit public spaces provide ample shelter for creeps to lurk.
Over the years, the industrial city in the south of the Netherlands has frequently manifested the highest crime rate in the country. In 2010, after Eindhoven once again got bottom billing in national public safety, the mayor blamed the dangerous atmosphere on a lack of police officers. But perhaps the government doesn't need to rush out to hire more cops just yet. A low-cost idea to secure the burg's blacked-out, shifty streets has popped up from, of all places, the participant pool of the 2012 Dutch Design Week.
The event's organizers asked designers to craft proposals to improve the city's blight-spotted landscape. In response, Royal College of Art graduate Jorge Mañes Rubio came up with something cinematically beautiful that has the added benefit of cheesing off Anthony Bourdain the next time he tours Eindhoven. Rubio wants to project videos of street-food vendors and open-air restaurants onto the walls of dark neighborhoods, making wayfarers think they're passing through a bustling, nighttime market.
Here are his thoughts on why "Street Food Lighting" could work:
I've always been fascinated by how much life there's in the streets of what we called undeveloped countries such as Morocco, Thailand or Indonesia for example. I think it's important to share this vision, because probably we have a lot to learn from them. Even at night, when we think the streets might be dangerous or hostile, they are bursting with life. And especially whenever there's a small food stall that prepares some of the local food. People meet, talk, eat and socialise together till late around the lights of these little businesses. But somehow in Europe we tend to value the privacy of closed spaces more, which we perceive as safer.
Of course, as late-night walkers get closer to the projections, it becomes obvious the only thing they could order is a brick sandwich. That might make the staying power of this gustatory illusion quite weak, unless the local criminals have the IQ of chimps. But it works if you view the project as providing an artsier type of streetlight. The design-week people liked it well enough to award it second place and €5,000 in funding. (If you're wondering, grand prize went to an idea for landscaping an unsafe area near the train station with wood chips and walking paths.) Next step: Getting actual food carts in Eindhoven?
Let's hope Rubio has installed safeguards to prevent thieves from stealing his projectors. Here are a couple more shots of the ghost markets:


Images courtesy of Rubio's See This Way.