Jim Grant Questions KFC's China Strut
by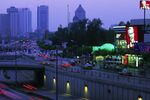 What is it exactly about high finance's love-hate relationship with lowbrow dining, namely Yum! Brands, the parent of KFC, Taco Bell, and Pizza Hut? Early this month, hedgie David Einhorn cited Taco Bell's up-market march to the sea as reason to short burrito insurgent Chipotle. Yes, seriously: that same Taco Bell of high school 59¢ munchies fame.
But in the Oct. 5 issue of Grant's Interest Rate Observer, editor Jim Grant called for (log-in required) curbed enthusiasm on Yum, which moves an unbelievable amount of fried chicken in China—perhaps too much, he says, for comfort. "Now unspooling," he wrote, "is a bearish analysis of Yum! Brands, a company that owes its 21st-century growth spurt to the world's most overrated economy."
Yum, Grant concedes, has been quite successful since its 1997 spinoff from PepsiCo. Its stock has since produced a total return of almost 1,000 percent on an 11.5 percent annual expansion of free cash flow and at least 10 percent growth in dividends since it started paying them out in 2004.
According to Bloomberg data that compares U.S. fast-food joints, KFC has the biggest exposure to global emerging-consumer markets, with half its stores in that growing universe. (My pal Diane Brady, a cosmopolitan Canadian with Scottish roots, wrote the definitive piece on KFC's international rock-stardom.)
The Colonel invaded China in 1987, three years before McDonald's implanted its first arches there. Grant notes that Yum now has 4,000 KFCs in China and wants to open at least 700 new ones annually to feed the voracious local hunger for its fare. Earlier this year, Yum Chief Executive Officer David Novak enthused: "The most compelling statistic we have is we only have four restaurants per million people in China compared to nearly 60 in the U.S., and the consuming class is expected to double to over 600 million people by 2020."
What's Chinese for "Grease: It's got groove, it's got meaning"?
In the company's impressive third-quarter report, Yum upped its China ante by saying it will now open more than 750 stores there this year. "In China, our category-leading brands and competitive positions are stronger than ever," CEO Novak said in the statement.
From 2005 to last year, writes/warns Grant, China's share of Yum's revenue has risen from 14 percent to 44 percent. He insists China is an increasingly shaky foundation to build so much of a business on. "As the Chinese macroeconomy sneezes," he writes, "we think, even Yum will catch a cold." Grant is worried that 90 percent of China's Yum outlets are company-owned, which means shareholders—and not franchisees—are most leveraged to their success or failure. That, he says, is risky business for shares trading at a premium price-earnings multiple to McDonald's, the industry's gold standard.
You can imagine Western investors' ardor for playing China's growth through an NYSE-listed, SEC-registered, Louisville (Ky.)-based S&P 500-stock index component that is covered by at least 25 Wall Street analysts. The Shanghai Composite, by comparison, is a no-man's land for serious institutional investors. As the Economist notes, that index recently slumped to levels it first hit more than 12 years ago, despite the fact that China's gross domestic product has since more than quadrupled in nominal terms.
There's been no shortage of concern in recent months that China is on the brink of a broad slowdown. Although Beijing is cutting interest rates to spur growth, consumer sentiment in China dropped for a third straight month in September. The third quarter saw Yum's consumer traffic per store in China fall 1 percent, its first decline since 2009. In an Oct. 11 research note, Bryan Elliott of Raymond James wrote that Yum could get hit in China and other emerging markets next year if food inflation worsens and keeps cutting into middle-class consumer spending.
Investors have hardly panicked, with Yum shares up 9 percent since earnings came out a week ago. Plus, haven't you noticed that Peruvians, no strangers to delicious chicken, suddenly can't get enough of KFC? Thing is—and to Grant's point—where would Peru's economy be if China weren't booming?
Before it's here, it's on the Bloomberg Terminal.
LEARN MORE