Best Buy's Homegrown Tablet
The electronics change is getting into the tablet game
By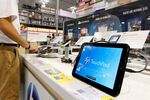 Best Buy is getting into the tablet business.
My Bloomberg News colleague, Bryan Gruley, has confirmed that the electronics retailer will be selling a tablet with a 9.7-inch display running Google's Android operating system starting Nov. 11. The tablet will run a dual-core, 1-megahertz processor and have 10 hours of battery life. Reuters has reported, and Best Buy confirms, that it will be sold as the Insignia Flex and will have a price of around $250.
The Flex will be running Android 4.0—also known as Ice Cream Sandwich—which is the second-most-recent version of Google's operating system. (Android 4.1 is the latest and is called Jellybean.) Ice Cream Sandwich is also the basis for Amazon's Kindle Fire, though that retailer has customized Android to such a degree that the OS is unrecognizable from its original version.
It remains to be seen if Best Buy will be altering the OS to the same degree. Furthermore, one of Amazon's chief selling points for its Kindle Fire is the large library of content that users can access with the device. Other than an app store buried within bestbuy.com, the brick-and-mortar retailer does not have a presence when it comes to online content distribution.
Meantime, other companies are readying new tablets. Sharp announced it will have a 7-inch tablet called the Aquos Pad ready for sale in Japan soon, and Digitimes is reporting that Google is working with Taiwanese supplier Quanta to produce a tablet that could sell for as little as $99. Microsoft is taking orders for its Windows 8-based Surface tablets, to be released next week, and Apple has announced an event on Oct. 23 that is widely presumed to be the introduction of a smaller iPad.
Before it's here, it's on the Bloomberg Terminal.
LEARN MORE