What Makes a Company Resilient?
Julian Birkinshaw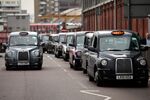 Two automotive companies announced product recalls in the last week: One involved 7.4 million vehicles, the other involved 400. But the consequences for the two companies are likely to be very different.
Toyota's 7.4 million-vehicle recall was for problems with power window switches. Memories of the company's 2009 crisis, sparked by problems with unintended acceleration, are still fresh. It had to overcome supply-chain problems following the tsunami in 2010. And over the last couple of months it has experienced a 50 percent sales drop in China, its biggest market, because of the political tensions between Japan and China. This latest recall could have been seen as dragging Toyota back into crisis mode. Yet it was met with a shrug by investors—the share price dropped only 1.3 percent when the recall was announced.
Why wasn't this a bigger story? Toyota had become a colossus by the 2000s, by far the most valuable auto company on the planet, but the 2009 crisis brought the company back to reality. The share price took a dive, and so did the egos of the people running the company. After a failed attempt at brushing off its customers' complaints as ill-founded, Toyota President Akio Toyoda changed tack and offered an apology to the public. He admitted that Toyota had become too big and distant from its customers and, using a line from management guru Jim Collins, he said Toyota was in an advanced state of decline, and was "grasping for salvation."
Maybe he overstated Toyota's problems, but it was what the company needed. His public statement sent a message to employees, forcing them to accept some unpalatable truths, and to shake off the complacency and arrogance that had infected the company.
Since then, Toyota has become less cocky, gradually rebuilding the faith among its customer base, cutting costs, and going through a back-to-basics overhaul of product development. Last week's recall was for cars built between 2005 and 2010, during the years of complacency. Unlike in 2009, the company has been proactive—getting the story out early, putting its customers first, and controlling its outcome.
What about the 400-car recall? This was Manganese Bronze, the niche U.K. manufacturer of London's famous black cabs. The recall was for problems with a faulty gearbox, made by a Chinese company introduced to Manganese Bronze by Chinese manufacturer Geely, which owns 20 percent of the company. Alas, this looks like the end of the road for Manganese Bronze as an independent company, as it seeks a further equity investment from Geely. The company had started using component suppliers in China to keep its costs under control, but lacked the skills and experience to make it work effectively. Ironically, Toyota pioneered the highly sophisticated supply chains used in automotive manufacturing, mastering the art of retaining control while also pushing responsibility down to others. But Toyota has been doing this for 50 years, whereas Manganese Bronze only got in this game recently.
Here's the management lesson from these two stories. In a turbulent business environment, companies need resilience—the ability to bounce back when faced with adversity. One important part of this is operational resilience—recovering from threats to your day-to-day operations—by having the ability to respond quickly, and by building duplication and redundancy into your operations. It turns out Manganese Bronze had a very fragile supply chain, whereas Toyota's was a lot more robust.
But you also need to think about strategic resilience—adapting to the broader threats in the business environment. This involves being alert to the disruptions in the marketplace, and having the self-awareness and humility to change direction. Nokia and Kodak, as well as Manganese Bronze, are examples of companies that have failed to adapt to their changing business environment. The jury is still out on Toyota, but its willingness to admit its mistakes, and to take the hit of a 7.4 million-vehicle recall, are signs it is heading in the right direction.
Before it's here, it's on the Bloomberg Terminal.
LEARN MORE