The Untapped Innovation Factory
Noel M. Tichy and Chris DeRose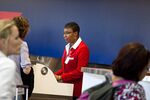 The majority of workers are in frontline positions, yet most organizations don't have a clue how to tap into the creativity of their largest group of employees.
In the U.S. alone, retail and service workers are estimated to total more than 15 million people, or nearly one-fifth of the U.S. commercial workforce. Statistics and common sense tell us that the vast majority of workers are engaged in frontline positions—pharmaceutical salespeople, bank tellers, airline attendants, coffee-shop baristas, truck drivers, factory line workers, and the like. Fred Hassan, a former pharmaceutical CEO, recently estimated in Harvard Business Review that 80 percent of the employees in the companies he had led were workers and supervisors on his organizations' front line.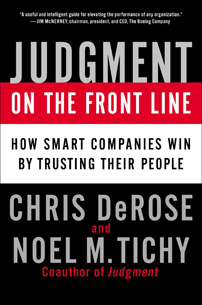 Despite their overwhelming numbers, we don't read much about frontline workers. Their indisputable impact on corporate bottom lines notwithstanding, we don't see many business books written about how to help frontline employees or leaders be successful.
The prevalent corporate tag line about "people are our most important asset" notwithstanding, we don't see many company leaders tap into more than a tiny percentage of the knowledge, creativity, and judgment of their largest group of employees. There is an untouched innovation factory residing in the collective brain trust—customer insights, product ideas, and service upgrades—that most companies have no idea how to access.
Consider these simple examples of how the front line actively contributes at a few organizations:
• Amazon designers and engineers are encouraged to experiment with the site layout to optimize user interaction, simplify transactions, and increase cross-sales. They are given the latitude to test new features, and the results have led to such innovations as shopping-cart recommendations.
• Zappos.com call-center employees have no limit on what they can do for disgruntled customers. Trusted to use their common sense, they know the long-term value of a customer and always work to create "wow" customer moments.
• Ritz-Carlton employees are trained to observe customers, noting their likes and dislikes on a "preference pad" each employee uses to anticipate a guest's every need. By studying guest habits, hotel employees have influenced new features that range from debit cards for children to use onsite to security features designed to protect guest privacy.
We're not saying organizations should scrap their strategic plans, technology road maps, or operating blueprints. But today, more than ever, brand perception comes from frontline workers who square off against the competition each day. Our research demonstrated how organizations can be engineered to release the know-how of frontline workers, creating millions of dollars of shareholder and customer value. Sadly, as we read about embattled CEOs at organizations such as J.C. Penney, Best Buy, and Hewlett-Packard, both the leaders and the analyst community seem to focus on grand changes to the physical assets or product portfolio, neglecting the critical role that frontline workers play in both the formulation and delivery of a winning customer strategy.
No organization can claim to be genuinely customer-centric without being equally dedicated to getting the greatest insight and contribution from those who serve the customer.