'The Economy Has Forced Creative People to Reach Inside Themselves'
Jared Keller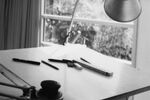 As part of our special Election Issue, we're asking Bloomberg Businessweek readers to tell us: Are we better off than we were four years ago?
Submit your story on Facebook or through our Tumblr, or leave your response in the comments section. We'll feature our favorites in future posts in this blog.
Yesterday, we published negative reader assessments of the nation's progress. Today we're featuring testimonials from readers who believe life in America has improved in the past four years.
Anna Zefferys, designer:
"I don't believe we are better off financially as a country. But the crisis has forced people like myself to hone in on their entrepreneurial abilities and look toward innovation to succeed.
Using my latent design, creativity and business skills, which were stagnating in my financial services job, in September 2011, I launched a handbag company with a totally unique concept. I can officially say unique, because it is.
The concept of our launch product, A Shoe In, was founded on the idea of keeping ladies' handbag items separated in a stylish way. The smaller upper compartment provides quick access to wallet, keys, lipstick, while the lower—reachable through our signature side zippers—can hold an iPad, 11-inch MacBook and high heels, etc. We sold out of product in the first four months of business.
The economy has forced creative people to reach inside themselves to finally go after that idea that has been building in the back of their minds."
"The fact I have been employed at the same place for over 24 years and received a significant promotion a year and a half ago, I would say I am better off than I was four years ago. At the same time my wife's business has improved as well.
As a result of our success we have managed to pay off a good deal of our debt while at the same time still saving and investing for our future. Additionally we have made some fairly significant purchases over the last year or so and have increased our travel as well.
I do feel bad for people who have not been as fortunate. We have five adult children and some of them have weathered the current financial environment better than others. It is difficult and frustrating when they have the skills and the desire to work but still cannot find good jobs.
I will say that one upside to the recession is that those of us who have money to spend can get better deals now than if the economy was strong. My wife recently spent over $1,000 at a trade show and was certainly able to purchase more than if everyone was able to do the same. We are planning to purchase a new vehicle in the near future and I am thinking about treating myself to a new gun for Christmas.
Part of our success is really due to good timing. We both happen to be in positions that are weathering the recession well. Not everyone has the luxury or even the ability to transition to a job that is doing well. The other part of our success is due to the fact we both also work very hard to succeed. Being a small business owner my wife typically works very long hours. My job requires extensive travel with long periods of time away from home. But we are both very fortunate and would rather be busy and working hard than underemployed or unemployed."
Commenter Ynot99, IT professional:
"Four years ago, the U.S. economy was on the verge of collapse. I watched week after week my retirement funds fall to such a point that I felt I would never be able to retire. As well, I felt as though my industry (IT) might never recover and I would be out of work again. This was after 8 years of Republican management of the country.
Now, four years later, I have seen work slowly return. My retirement account has steadily improved and my confidence I may be able to retain a job is solid. I hope we NEVER see the meteoric rise of the economy we saw run off a cliff in 2008.
Anyone who thought President Obama could completely turn around the economy in only four years is fooling themselves into going back to the same policies that got us here in the first place. I do not want to relive that experience again. I see manufacturing jobs SLOWLY returning for the first time in decades. And it will take decades of both Democrats and Republicans working together, as well as Americans being ready to stop complaining and roll up their sleeves to work harder for less. Yes, I said less. We have become too comfortable expecting we should be able to afford large homes, big cars and the latest gadget."
Todd Defren, marketing agency CEO:
"We are ABSOLUTELY better off today than four years ago. In our industry, fortunes tend to index to the health of the stock market. Four years ago our fledgling agency was being rocked by the plummeting NASDAQ. Today we are thriving, with over 100 staff and lots of stable clients of all sizes. It's now vanishingly rare for a client to leave the roster due to budget concerns."
Dennis Stimson, artist:
"Slow and steady progress. Each day we dig a little further out of the massive hole the Republicans created."
David Stanford, PM:
"Yes, yes, and YES! We ARE better off today. It takes more than one Presidential term to dig ourselves out of the financial hole we were in. Anybody that thinks otherwise is either purposefully misguiding or brainwashed, or maybe doesn't understand the issue well enough."
Are we better off? Submit your story on Facebook or through our Tumblr, or leave your response in the comments section. We'll feature our favorites in future posts in this blog.
Before it's here, it's on the Bloomberg Terminal.
LEARN MORE