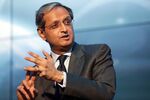 How's that for an October surprise?
Out of nowhere, Citigroup on Tuesday morning announced the departure of its embattled Chief Executive Officer Vikram Pandit, the unlikely man who led the bank through its (three) government bailout(s). Pandit took the top job nearly five years ago, mere months into joining the multinational when it acquired his hedge fund.
By comparison, Pandit's replacement, Europe, Mideast and Africa head Michael Corbat, has been with Citigroup and its predecessor companies since 1983, when he graduated from Harvard with a degree in economics and a minor in dreaminess.
"Given the progress we have made in the last few years, I have concluded that now is the right time for someone else to take the helm at Citigroup," Pandit said in the bank's statement. "Mike is the right person to tackle the difficult challenges ahead."
Start with the non-cynical read: Pandit, 55, was understandably tired. His was a thankless job, marked by rebukes from both shareholders and the Federal Reserve, and grief from Occupy Wall Street. All to clean up a mess that the bank largely made well before he got there. For a stretch, he took a $1 salary. More recently, Pandit's plan to boost payouts to investors was rejected by regulators. Meanwhile, the presidential election is weeks away, with new personalities headed to the Treasury Department regardless of who wins. Citi's shares are up 40 percent this year, and it just reported respectable numbers. It's an opportune time to pack it in, which President and Chief Operating Officer John Havens also did.
Now, for the palace-coup read: Pandit's ouster will help the bank, said Sheila Bair, who clashed with him when she was chairman of the Federal Deposit Insurance Corp. "This was a very positive move and the board discharged its responsibilities, and I think they should be commended for that," she said in an interview with Bloomberg Radio's Tom Keene. Indeed, Bloomberg's Donal Griffin and Bradley Keoun are reporting that the board ousted Pandit after concluding that he had mismanaged operations and relations with regulators and shareholders, a person with knowledge of the discussions said.
"Very simple," says William Smith of SAM Advisors, a longtime Citigroup investor who tried in vain to get the bank's subprime-era management to split up and simplify the megabank. "They axed him, unfortunately many years too late." Smith says Corbat, while somewhat unknown, has done a strong job in his executive role. Still, the bank's framing of the move irks him. "What's absolutely amazing," he says, "is they are trying to paint [Pandit] as a hero! Good riddance."
Corbat will have his hands more than full turning around the country's third biggest bank. Citi Holdings, the firm's "bad bank," still holds $171 billion of toxic or otherwise regrettable assets. Fortunately, the veteran executive knows that musty corner of the building quite well.
All this comes as Sandy Weill, the architect of the financial supermarket that Citi became, has called for a breakup of that model.
Where does Corbat even start? How about with a platitude-laden internal memo.
As for Citi's stock, which suffered the ignominy of a 1-for-10 reverse-split, it remains a mere julienne of its old self, especially when compared with the rest of Wall Street. Even so, assuming Pandit's compensation package still holds, Citigroup will have paid him about $261 million in the five years since he became CEO. That spans his personal compensation and the $165 million shelled out to acquire his hedge fund—which Citi subsequently shuttered at a cost to shareholders of $202 million.
Before it's here, it's on the Bloomberg Terminal.
LEARN MORE