NFIB Backs Todd Akin Despite 'Legitimate Rape' Remarks
By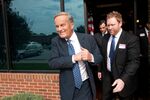 The National Federation of Independent Business's home page today is adorned with a pink ribbon next to its logo and a promotion celebrating women business owners. What most visitors won't find is the group's endorsement of Todd Akin, the Missouri Senate candidate whose August remarks about "legitimate rape" made conservatives from Mitt Romney to Karl Rove run the other way.
The right-leaning small business group's political arm endorsed Akin yesterday in a statement released by his campaign. "He opposed the federal health care law and he pledges to repeal it; he opposes an increase in the income tax, which would affect thousands of small employers in Missouri; and he understands the need to reign [sic] in the regulatory bureaucracies in Washington," said the NFIB's Lisa Goeas, whose title is vice president for political, in the statement.
The NFIB isn't alone in coming to the Tea Party candidate's corner. Newt Gingrich and Rick Santorum recently endorsed him. Republicans have to balance the benefits of having a shot at regaining a majority in the Senate with the risk that standing with Akin will alienate voters who find his comments deplorable. Business groups often shy away from wading into social issues. The U.S. Chamber of Commerce hasn't made an endorsement in the Missouri Senate race, though it rates Akin's voting record favorably. The NFIB has made a different calculation to actively get involved. The group sent a mailer urging Missouri business owners to vote against incumbent Democrat Claire McCaskill, the Nation reported last week.
NFIB spokeswoman Jean Card said the group based its endorsement on Akin's voting record on small business issues, which gets a 100 percent approval score from the NFIB. (McCaskill gets a 45 percent.) "We really do our best to just look at the issues that are relevant to our membership," Card says.
When I asked whether Akin's radioactive remarks about rape and abortion concerned the group, Card told me, "That happened; we're obviously aware of it. That's not the issue we're representing for our members. We're representing taxes, health care, regulation."
Card confirmed that the group didn't put out its own press release about backing Akin, and endorsements appear on a members-only section of the NFIB's website. The NFIB didn't post it on Twitter, either, as it does with many other endorsements.
Before it's here, it's on the Bloomberg Terminal.
LEARN MORE