Is Admission to an Ivy League School Worth $2 Million?
by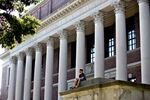 How much is an Ivy League degree worth? For some, far more than the roughly $60,000 per year that covers tuition, room and board, and overpriced textbooks. If you're Hong Kong parents Gerald and Lily Chow, the figure is more like $2 million, which is what they paid to a college consultant to help their two boys get into "top universities" in the U.S., according to court documents (PDF). They now are suing the consultant, Mark Zimny, and his Cambridge (Mass.)-based company IvyAdmit Consulting Associates. The Chows allege, among other things, fraud and misuse of funds, and Zimny denies wrongdoing. As the Boston Globe reports, the sons did find their way to "top universities."
Two million dollars is extreme, but many parents hire consultants to give their kids an edge. The Independent Educational Consultants Association estimates there are 4,000 to 5,000 such consultants in the U.S., a majority of whom specialize in college-level admissions. Average income for these experts ranges from $49,000 to $131,000, depending on experience.
The focus for many aspirational parents: the Ivy League. "It's like going to Hollywood," says Gerald Bradshaw, president of Bradshaw College Consulting. "Being in the movies, being with the stars."
At a basic level, consultants guide families through the college planning and application process, especially those unfamiliar with the U.S. system or who are sending a child to college for the first time. Michele Hernandez, president of Hernandez College Consulting, says she also aims to sharpen students' abilities to give them more college choices and get them into schools at the top end of their range, even if they're not Ivies. "It's the luxury of having someone to answer your questions all the time," she says. "Some parents call me literally every three days. … It helps them maintain calm. Half the time I feel like a psychological counselor."
Hernandez typically charges about $42,000 for five years of consulting starting in the eighth grade, $40,000 for four years, and $38,000 for three years. Her four-day college boot camp program, sold out for the last nine years, is $14,000.
"I am constantly trying to manage expectations and get them to stop focusing on Harvard, Harvard, Harvard," she says, "because it's not a reality for most people."
But what about Harvard? Would university officials encourage ambitious students to hire these consultants? According to Harvard spokesman Jeff A. Neal, not so fast.
"While it is certainly possible that in individual cases an admissions consultant can be helpful to an applicant," he says, "we have encountered no evidence to indicate that is the case generally. More importantly, our process—and the very wide range of information we collect about applicants—is designed to give us the broadest possible view of their qualifications, regardless of whether they used a consultant or not."
But the point may be moot. If kids want a real shot at the Ivies, according to Bradshaw, they might need to start much earlier: preparing for high school. "More and more business," he says, "is coming from middle school."
Before it's here, it's on the Bloomberg Terminal.
LEARN MORE