B-School Twitter Roundup
Alison Damast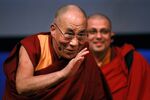 This week's Twitter roundup of happenings in the business school world includes professors from UCLA and Harvard Business School winning the Nobel Prize in economics, the University of Arizona launching a new business minor in entrepreneurship for non-business majors, and the University of Texas bringing a real estate certificate program back from the dead.
Oct. 15 was the first day on the job for Robert E. Widing II, the new dean of Case Western Reserve University's Weatherhead School of Management (@caseweatherhead, 10/15).
UCLA professor emeritus Lloyd Shapley and Harvard Business School professor Alvin Roth have been awarded the Nobel Memorial Prize in Economics (@UCLA, 10/15).
The three-story, 54,000-square-foot Stayer Center for Executive Education at the University of Notre Dame's Mendoza College of Business is getting close to completion and is slated to open this winter (@NDBusiness, 10/15).
The Graduate Management Admission Council publishes a list of dozens of business schools that offer innovation and entrepreneurship concentrations (@GMACResearchers, 10/11).
The Dalai Lama paid a visit to MIT this week to discuss global systems with MIT Sloan professors John Sterman and Deborah Ancona (@mitsloan, 10/12).
Michael Alexander, a second-year MBA student at Pepperdine University's Graziadio School of Business and Management, blogs about why he thinks business school should start partnering with computer science programs (@GrazaiadioSchool, 10/10).
The University of Arizona's Eller College of Management is starting a business minor this fall for students outside the business school who want to focus on entrepreneurship and innovation (@EllerCollege, 10/10).
Debora Spar, president of Barnard College, kicks off a speaker series at Harvard Business School that looks at the future role of women in business (@HarvardHBS, 10/9).
The McCombs School of Business at the University of Texas, Austin, is offering an undergraduate real estate certificate, revamping a program that was last offered at the school nearly two decades ago (@UTexasMcCombs, 10/9).
Dartmouth College's Tuck School of Business was named the top family-friendly business school, according to the latest graduate school rankings by the Princeton Review (@Dartmouth, 10/9).
Join the discussion on the Bloomberg Businessweek Business School Forum, visit us on Facebook, and follow @BWbschools on Twitter.