Surprise! There May Be a Business in Google Apps
Barb Darrow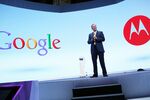 There's no doubt Google Apps has traction. Lots of startups and even larger companies are aboard. What's in question is how many of those people are paying for the Google Apps for Business version (as opposed to the freebie) and whether there's enough action there to support third-party service providers that resell and integrate those apps with outside applications.
According to Cloud Sherpas, there's plenty of money in that market—the Atlanta-based Google partner says its Google Apps-related revenue more than doubled from a year earlier. And it's brought on Chris Arroyo, former vice president and chief financial officer at Capgemini, as CFO to help it attack more of that big-business opportunity.
There's a lack of objective numbers on sales of Google Apps and rival Microsoft Office 365, but one thing is clear: Companies don't want to pay a ton for productivity applications—a market dominated by Microsoft Office for years before coming under attack from less expensive (and less feature-rich) software-as-a-service (SaaS) offerings like Google Apps.
Cloud Sherpas was Google's Enterprise Partner of the Year in 2011, so it's hardly a neutral observer here, but its claims nonetheless bear noting. The company says it logged $12 million in revenue last year on Google Apps and $10 million on Salesforce.com, and this year expects to hit $45 million in total revenue across both businesses. Even discounting its merger last year with GlobalOne, a Salesforce.com partner, that's impressive growth.
The vast majority of new Google Apps customers are coming from Microsoft, although some are also transitioning from Lotus Domino, Novell GroupWise, or open-source products, says Michael Cohn, Cloud Sherpas's senior vice president in charge of marketing.
Google Apps undoubtedly gets traction among cash-strapped startups—younger companies that are less tied to Microsoft's apron strings. But Cloud Sherpas Chief Executive Officer David Nicholson says he sees enterprises adopting Google Apps at a nice clip: "The real push is in the enterprise space, and we're in the middle of that."
Google Apps can be had for free, but the business version lists for $5 a month per user, or $50 a year per user, considerably less than the list price of old-line Microsoft Office. Microsoft has since responded with Office 365, which starts at $4 per user per month for e-mail, but the version with desktop productivity applications lists for $20 per user per month.
But those are all "list" prices—they don't take into account discounting that can be rampant when an enterprise account is at stake.
"We do see Microsoft in [enterprise] accounts, and when they win it's by heavily discounting [Office/Office 365] and rolling it into enterprise agreements that are predicated on buying more legacy software and [client access licenses]," Cohn says. That strategy has worked to devastating effect for Microsoft in the past, pushing huge adoption of SharePoint and Microsoft CRM, for example.
Kohn says he doesn't think Microsoft can replicate that past success, however, with Office 365. "Office 365 has cloud elements but it's more of a hybrid that remains tied into Microsoft on-premises software. When companies move to Google Apps, it's their last migration. They won't have to deal with upgrades every three or four years," he says.
Cloud Sherpas isn't alone in claiming Google Apps adoption gains. Last week, BetterCloud, a company that offers IT services around Google Apps and Google Drive (using technology acquired from Cloud Sherpas), said it has added 10,000 users in the past year, bringing its total to 2.75 million.
That traction seems to indicate that Google, which is at heart an Internet search and ad company, is starting to understand that it needs an ecosystem of third-party VARs and integrators to tie its SaaS applications into legacy software and other SaaS products. Last week, Google announced a Google Apps Reseller API that lets authorized partners more easily place orders and manage Google Apps accounts. The new API supports Google Apps for Business, Google Drive storage, and Google Apps Vault.
Cohn says there are several ways an integrator can thrive in this low-cost SaaS world. First, Cloud Sherpas gets margin on the upfront sale and a continuing piece of the ongoing revenue from Google Apps. Beyond that, it can integrate SaaS applications from different vendors with each other and to older on-premises software. "We can provide our customer with a single place to consolidate their service level agreements [SLAs] and track users," he says. "We can also enhance their applications and carry them to mobile devices and adapt them for vertical applications."
Also from GigaOM:
Social TV Apps: Understanding Consumer Behavior and the Evolving Ecosystem (subscription required)
Why Becoming a Data Scientist Might Be Easier Than You Think
What Happens When Computers Are Cheaper Than Lego Blocks
The FTC, Google and Anti-Trust: Some Thoughts
Before it's here, it's on the Bloomberg Terminal.
LEARN MORE