New Gas-Mileage Rules Have an Industry Revving Up
By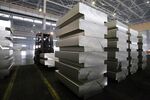 If President Obama wins re-election, aluminum manufacturers such as Alcoa and Honeywell International could have reason to celebrate. The industry is likely to be listening closely this week when David Strickland, administrator of the National Highway Traffic Safety Administration, addresses its annual conference and details the role the metal could play in Obama's new fuel-economy rules.
Published on Monday, the rules mandate that cars average 54.5 miles per gallon by 2025—about double the current average fuel economy. Automakers have been racing to develop new technologies to comply: They need to design cleaner engines while building a greater number of electric cars and lighter vehicles. And that's likely to bring a windfall for the aluminum industry, according to Bloomberg Industries analyst Andrew Cosgrove. A lightweight metal, aluminum is the most likely candidate to replace steel in certain auto parts, says Cosgrove.
The administration claims the new standards will help save Americans $1.7 trillion in fuel costs, or about $8,000 per vehicle. For the auto industry, the estimated cost of compliance is $136 billion. That's one reason Mitt Romney opposes the standards: He says they'll make cars more expensive. As Romney campaign spokeswoman Andrea Saul told the Detroit News: "The president tells voters that his regulations will save them thousands of dollars at the pump but always forgets to mention that the savings will be wiped out by having to pay thousands of dollars more upfront for unproven technology that they may not even want."
Throughout the campaign, Romney has argued that Obama's financial, environmental, and health-care regulations are burdening consumers and costing the country jobs. It's possible that if elected, Romney could move to repeal the fuel-economy rule. Then again, when it comes to lighter vehicles, perhaps the new rules will create jobs, too.
Before it's here, it's on the Bloomberg Terminal.
LEARN MORE