business
MBA Journal: Finding the Business Way
Cathy Mae Favorito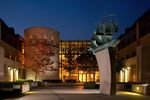 I'm an IT professional from the Philippines in my mid-twenties, with a strong background in technology. I studied at the country's premier science and technology high school and graduated magna cum laude from the Ateneo de Manila University with a degree in electronics and communications engineering. For the past five years, I have been working in system services at a multinational company, where I handle post-sales technical and client-facing roles. This fall, I will be starting my MBA at the Mendoza College of Business at the University of Notre Dame in Indiana.
Ever since I joined a youth forum held by the International Telecommunications Union when I was a college senior, I have toyed with the idea of getting an MBA. In one session, we were asked to think of ways we could use existing information and communication technologies to address prevailing problems in our respective countries and then come up with a business plan to showcase our ideas. I'm good at solving complex equations. I can program sensors and design electronic circuits. I write decent research papers. But I don't know how to devise a business plan.
Translating ideas into something workable and financially sustainable was quite a challenge for me. Yet something clicked in my brain: I wanted to learn this skill. I wanted to learn the business method of solving problems. I wanted to learn the language of business. As a technical person, it seemed to me that learning more about business would give me an edge because I'd have a different lens with which to see things.
Given a specific issue to be addressed—education, for instance—it seems very easy to say, "We need to increase the number of schools, increase the number of teachers, increase their salaries so that they needn't go abroad," as if these were all factors in a simple equation that will perfunctorily yield a satisfactory result. But such issues are not as straightforward as they seem. Increasing the budget in education takes away the budget in other areas, such as security. With a limited budget for education, what can you afford? What do you prioritize?
I'm glad that the Mendoza College of Business has a strong focus on ethics because I wanted a school that would give me the tools I needed to make the right decision, even when it's the hardest one to make. Apart from that, I chose Notre Dame because of its reputable faculty, strong alumni network, beautiful campus (those trees and that golden dome), collaborative atmosphere, and generous fellowships—the last of which means a great deal to me, coming from a third-world country.
I've prepared as well as I could: I saved money, did research, and watched Rudy. But nothing's prepared me for the roller coaster of emotions I'm having right now. I'm thrilled that I'll be living in another country. I'm excited to meet new faces. I'm apprehensive over the long separation from my family. Most of all, I'm hopeful that the MBA will open many doors for me in the future.
Between journal entries, you can keep track of Cathy's business school adventures at the Business Schools Facebook page. Follow the Bloomberg Businessweek B-Schools team on Twitter.
Before it's here, it's on the Bloomberg Terminal.
LEARN MORE