Explaining Softbank's Bold Bid for Sprint
by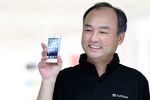 "I'm a man and I think every man wants to be No. 1."
—Masayoshi Son, Japan's second-richest man, on his wireless conglomerate Softbank's $20.1 billion deal (PDF) to acquire 70 percent of Sprint Nextel, the No. 3 U.S. wireless carrier.
In at least one ego-boosting respect, the deal is already tops: It would be the biggest external acquisition by a Japanese company in at least 12 years, according to Bloomberg data. As for why Softbank (9984:JP) would want to buy Sprint, currency, capital-infusion caper, and chutzpah (Japanese for audacity) sum it up well.
For starters, the strong Japanese yen now buys beaucoup in dollar-denominated assets. A little over five years ago, the yen was trading at 123 to the dollar. It now takes just under 79 of them to buy a buck. Japanese companies have been  snapping up assets abroad at a record clip; they have already spent more than $65 billion this year, according to the Wall Street Journal, citing figures from Dealogic.
Japan's wireless scene is not the world's most-compelling growth story. According to IDC, while mobile-handset sales in the U.S. popped to 191 million units last year, from 182 million units in 2007, handset shipments in Japan declined to 38 million units, from 52 million in 2007.
The financial and wireless worlds have since changed profoundly. Sprint, the wireless industry's perennial D student,  got the iPhone only last fall—and is now way behind AT&T and Verizon Wireless in rolling out the faster, next-generation network that the latest iPhone runs best on. Softbank, in contrast, parlayed its position as Japan's first carrier to offer the iPhone and iPad to pull closer to No. 1 Japanese provider NTT DoCoMo and No. 2 KDDI (9433:JP). The iPhone 5 went on sale last month.
"Cross-continent investments in telecom generate no synergies," wrote Craig Moffett of Bernstein Research on Oct. 11, as word got out that a deal was in the works. While he may be right—Omaha-Osaka network-building economies of scale would be hard to realize—Masayoshi Son could be thinking his strategic acumen, combined with Softbank's balance sheet, could combine to make Sprint a true contender in AT&T and Verizon's largely duopolistic (but still disrupt-able) U.S. wireless market. Softbank, after all, parlayed the iPhone to boost its earnings by more than sevenfold over the past four years.
The Softbank-Sprint mega-deal comes in the wake of No. 4 competitor T-Mobile USA's (DTE:GR) agreement to merge with bit player MetroPCS. AT&T last year failed in its attempt to take out T-Mobile. Don't be surprised if AT&T and Verizon attempt to counter Softbank's mega-gambit with one of their own.
Softbank's shares have fallen more than 20 percent in Tokyo trading since it emerged late Thursday that a potential deal was in the offing. "It's not an easy path to go," Son said at a press conference in Tokyo. "But without taking on a challenge, we may end up facing bigger risks."
Before it's here, it's on the Bloomberg Terminal.
LEARN MORE