Democrats to Obama: It's Still the Economy, Stupid
By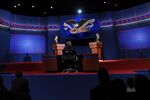 With Tuesday's debate shaping up as crucial for both candidates—Romney needing to maintain his momentum, Obama needing to regain his own—it's worth pointing out that both campaigns' initial strategies are looking more and more like they were wrong. Romney's theory of the race was that the economy was so bad, he needed only remind voters of this fact to win the White House. But that wasn't working, so Romney corrected course, most visibly in the first debate when he made an impassioned (albeit vague) argument for how he would speed up the recovery.
Obama's theory was that Romney's business career and personal wealth could be used to paint him as hopelessly out of touch with the middle class, with Romney's awkwardness and refusal to release multiple years' worth of tax returns buttressing the charge. As I wrote yesterday, that worked fine—until Romney got it together in the debate. What Romney did right was explain in plausibly specific terms what he would do over the next four years and how he would do it. He talked about big things. He sounded convincing. He wasn't the heartless plutocrat in the "47 percent" tape. Not only has he taken the lead in many national polls, but for the first time more voters view him favorably than unfavorably. Pardon the hackneyed sports cliché—political writers are powerless during election season—but Romney's team made the better halftime adjustments.
What does Obama need to do to adjust? A poll and strategy memo out this morning from veteran Democratic pollster Stanley Greenberg and Democracy Corps, a Democratic research and strategy outfit, makes a persuasive case that Obama must do what Romney did: start talking about how he'd make the economy better. "The campaign has reached a tipping point where we believe the president has to offer a bold narrative, politics and choice if he is to get to a substantial re-election," says the memo, which was co-written by James Carville and Erica Seifert.
The Democracy Corps prescription is notable because it differs with what until recently had been the conviction of Obama's Chicago brain trust that weary voters would not accept more big, bold ideas from Obama. That's why his campaign focused on tearing down Romney and making the more modest "ask" that voters stick with the president because things are generally moving in the right direction (thus the campaign's slogan, "Forward").
Greenberg's poll, taken just after the Charlotte convention, essentially found that that was wrong. Voters by a 2-to-1 margin said "major changes" were necessary to solve America's problems; the overwhelming majority of these voters held this view "strongly."
"Coming out of Charlotte," Greenberg says, "when Romney seemed to be unacceptable as a candidate and not talking about his own plan—he was mainly attacking Obama—we found that Obama's talking about his goals for the future seemed like enough [to win the election]." Greenberg doesn't think that anymore. "The reason we released this poll was that after the first debate, there still was no discussion of what the plans were for jobs and the economy. You didn't hear the president speak about that. And you have Romney now doing most of his 30- and 60-second ads focused on his plans for the economy."
Obama will have to counter in tomorrow's debate if he hopes to turn things around. He, like Romney, will have to adjust. As Greenberg put it, "The burden has shifted. But we did find that people were hungry for this."
Before it's here, it's on the Bloomberg Terminal.
LEARN MORE