Venezuela's Strange Stock Market Rally
by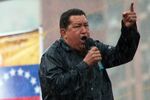 What's more Twilight Zone: the fact that there even is a "Ho Chi Minh City Stock Exchange" or that equities in Venezuela, stomping grounds of anti-capitalist-extraordinarista Hugo Chavez, are up 209 percent this year?
On Oct. 7, Chavez, 58, won his third six-year term as president. Since taking office in February 1999, the former paratrooper, who once was jailed for participating in a failed coup, has pursued what he calls a Bolivarian Socialism of the 21st Century. He has seized more than 1,000 companies or their assets, leveraged soaring oil prices to play hardball with such multinationals as Exxon Mobil and ConocoPhillips, and pushed through price controls, subsidies, and social projects aimed at helping his impoverished political base. On his nationally televised talk show, Aló Presidente, Chavez likes to reward callers with sacks of cement and chickens. In his spare time, he chills with pal Fidel Castro.
While Chavez's regimen has put a major dent in the country's poverty rate, it has also caused rampant inflation and deterred outside investment in Venezuelan bonds, stocks, and on-the-ground assets. So take your "buy" orders home, Yanqui—right? Actually, for all that expropriation and hostility, the country has not defaulted on its debt under Chavez's watch. According to Barclays (BARC:LN), Venezuela has approximately $64 billion in external sovereign debt and bonds offered by Petróleos de Venezuela (PDVSA), its state-owned oil company. Bond investors with enough stomach lining to buy and hold these issues have enjoyed three times the annual income of average emerging-market bonds. And when Venezuela's government bonds do well, there's naturally more of a willingness to take a flier on its zero-guarantee equities.
Enter the peculiar enticements of 2012, which combined to make Venezuela the world's best performing stock market year-to-date. There was hope, pre-election, that Chavez might be on the way out. To rally his base, Chavez spent like a demon, goosing fiscal spending by 41 percent in real terms during the 12 months through August, according to BancTrust & Co.. The economy grew above trend, making the risks of buying Venezuelan equities seem less scary compared with the potentially enormous upside.
In the week since Chavez prevailed at the polls, the market has fallen 3 percent. "Now they're saying that the economy is going to sink with Chavez's victory," he remarked on state television. "Our economy is one of the fastest-growing in the region and we have some very positive indicators on growth."
Walter Molano, a Latin America watcher with BCP Securities, says investors need to realize that there could be a painful unwinding of the speculation that has bid up Venezuelan securities. "Once the banners and bunting are put away," he says, "the government will need to take a close look at how to get out of the fiscal hole it dug during the electoral process." (Barclay's estimates that Venezuela's budget deficit could hit nearly a fifth of the its economic output this year.)
Molano says there are rumors that Chavez may nationalize the banks before devaluing Venezuela's currency to improve fiscal appearances—higher inflation, be damned. He also calculates that the country will have a hard time servicing its debt should oil prices, its primary source of revenue, fall 15 percent to 20 percent. He points to the sharp drop in Venezuelan bond prices after the election as confirmation of investor worries and says the thought that people truly believed Chavez would lose is "risible." Says Molano: "Hugo Chavez is the consummate politician and he plays the democratic game to utter perfection."
Still, speculative hope dies hard. JPMorgan on Oct. 10 raised its recommendation on Venezuelan debt to overweight (from market weight). Its report said that Chavez's ongoing illness will necessarily focus the world on the prospect of government transition, which will keep markets "intrigued by the perceived optionality of a more market-friendly regime."
Moody's begged to differ a day later, saying on Oct. 11 that Chavez will likely view his re-election as a strong mandate to continue its budgetary and investor-unfriendly policies. This, it said in its report, "is increasingly unsustainable and credit negative."
Confused? Despair not, for there are more fun ways to lose money in Venezuela.
Before it's here, it's on the Bloomberg Terminal.
LEARN MORE