Michigan Has the Justin Verlander of Governors
By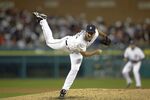 Snyder said both political parties are to blame for paralysis in Washington, and he cited his successes in cost-cutting and rewriting Michigan's taxes as models of governance.
"A lot of average citizens are tired of all the arguing and fighting. I think both parties could do a better job of being more positive and pro-active on programs for the future instead of getting in fights and ideology."
—Michigan Governor Richard D. Snyder in Chris Christoff, "Michigan Governor Sees Up to $300 Million Hit From Fiscal Cliff," Bloomberg News, October 11, 2012
And then, there is the paralysis cliff.
Rick Snyder is from Cereal City, Battle Creek, Mich. This suggests he grew up in the vicinity of men, women, and offspring enjoying benefited full-time employment. They, and he, had a future.
There are other governors with his stunning combination of grounded childhood, sterling academics, and bipartisan reality. None have confronted a collapse of Michigan proportions. (In the current two-party spirit, I shout out Ms. Granholm, who gracefully handed a nascent recovery over to Governor Snyder.)
We, and paralyzed Washington, have much to learn from Snyder.
The governor has witnessed the depths of economic political despair. Which brings to mind one Justin Brooks Verlander of the destined Detroit Tigers.
Pitcher Verlander is a star of ginormous proportions. Like the two-peninsula state, #35 has faced monumental and visible adversity.
Verlander lost 17 games in 2008.
He came back and achieved; no doubt with coaches providing a governor to his 25-year-old emotions.
Michigan has been through hell and back and has come back with a vengeance. They have a Republican governor who speaks, speaks, to Democrats.
The Wolverine State could lead our ginormous manufacturing renaissance.
Michigan has the Justin Verlander of governors. Discuss.