'It's Just Insane': American Airlines Travelers Vent
By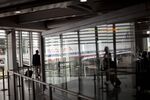 American Airlines can't seem to catch a break. Not only did the bankrupt Fort Worth-based carrier recently terrify passengers by having seats dislodge during flights, but also its relationship with pilots remains sour due to labor disputes. The number of flights has been reduced to cope with cancellations and delays after on-time arrivals hit 59 percent in September. To top it off, novelist Gary Shteyngart wrote a withering account in the New York Times of his own flight across, or attempt to cross, the Atlantic.
Asked to explain, spokesman Matt Miller says in an email that American is extending its reduced flight schedule through mid-November. "Although we are beginning to see improvements in our operations, we are taking this proactive step to allow us to get our performance back to the levels our customers deserve and expect."
Just how bad has flying with AA been for the average traveler? Bloomberg Businessweek wanted to find out, so Thursday afternoon we staked out New York's JFK International Airport. At the time only one departure, a flight to San Francisco, was delayed. Here are some of the flyers we encountered.
Andy Obert (sales, Gartner): I was playing golf this morning, and we were joking about whether I'd be able to get 18 holes in. Right then I got a call about the delay [to San Francisco]. Last time they didn't call until after I checked in. I'll probably go to the Admirals Club and pout now.
Rick Weaver (corporate coach): I have clients all over the U.S. and Canada. It's just insane. In the last month I've been delayed a total of six hours, but that's six hours too many. I am a 2 million miler on AA. At some point, total acceptance is the only answer.
Rob Tenbroeck (telecommunications consultant): I got to New York on Monday. A 50-minute flight took five hours! There have been several delays in the last two weeks. Once is fine, twice is concerning, but three times is obnoxious. I sent AA an e-mail. They responded and sent an e-voucher for a future flight. I wish airports had more plugs.
Julie Denton (law firm office administrator): About two months ago there was a delay on a trip from San Diego. Apparently there was a mechanical problem they knew about when the plane landed the night before. I was annoyed. There was a five-hour delay. But I think every airline is the same.
Leo Hoarty (CEO, Swagger): I've been lucky. This is the first delay recently, and I fly a lot. I'll probably take out my laptop at the Admirals Club and get back to work.
Luiz Figueira (financial manager, Brazilian utility company): I am going back to Rio de Janeiro. I left my wallet this morning at the boarding area in Boston. The airline found it, and they are sending it to Rio. These ladies at AA are fantastic.
Before it's here, it's on the Bloomberg Terminal.
LEARN MORE