A Former White House Executive Chef's Bag Lunch
by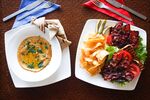 As the White House executive chef from 1994 to 2005, Walter Scheib occasionally packed to-go lunches for both President Bill Clinton and George W. Bush. The former was a "voracious eater," he says, citing Clinton's "see-food diet." (Hillary's attention to nutrition, as well as daughter Chelsea's vegan diet, kept the president on a balanced menu.) As for Bush: peanut butter and honey sandwiches, BLTs, grilled cheese, and hamburgers were "his culinary universe," he says. "He was a man of no pretense. He liked simple food."
Scheib, who runs the American Chef, a catering company in Great Falls, Va., shares his recipes for two simple presidential favorites: the Clintons' "garlic-y" hummus and Bush's "Royal BLT."
Hummus with Flat Bread or Roasted Vegetables
A favorite of Hillary and Chelsea Clinton. Scheib kept it on hand at all times and also sent it with the family when they traveled.
Serves 2
Ingredients:
1/2 cup dry chickpeas
1/8 cup lemon juice
1 tsp lemon zest, fine
1/8 cup tahini paste
1/2 tbsp rice vinegar
1-1/2 tbs olive oil
1/2 tbsp garlic purée
1/2 to 1 tsp Harissa paste (depending on how hot you like it)
1/2 tbsp chopped parsley
1  loaf pita or other Middle Eastern flatbread, or roasted vegetables
Instructions:
Clean and soak chickpeas overnight. Drain and put chickpeas in 2-quart pot. Cover with water by 2-3 inches and cook until chickpeas are very tender (80 to 90 minutes). Combine chickpeas and remaining ingredients, except flatbread, in blender or food processor and purée until very smooth. Adjust seasoning. Serve with toasted flatbread or roasted vegetables.
The Royal BLT
One of President George W. Bush's lunch favorites
Serves 2
Ingredients:
1-1/2 tbsp mayonnaise
1/2 tbsp Dijon mustard
4 slices white bread
6 pieces of Neuske's bacon, cooked crisp
4 slices of ripe tomato
2 leaves of romaine or leaf lettuce, washed and dried
3 oz. potato chips
2 dill pickle spears
Instructions:
Combine mustard and mayonnaise in a small bowl and mix well. Toast white bread and then spread with mayo mix. Arrange 3 pieces of bacon, 2 slices of tomato, and a leaf of lettuce on the toast and form a sandwich. Cut sandwich diagonally and serve with potato chips and pickle wedge.
Before it's here, it's on the Bloomberg Terminal.
LEARN MORE