The We-Play-by-Different-Rules Effect
By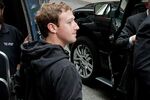 "Facebook would disclose the number of daily active mobile users only 'for the staff's reference,' not in its registration statement, Vetter wrote. That number showed a big jump, to an estimated 58 million mobile-only Facebook users on Dec. 31, 2011, from 23 million on March 31, 2010."
—Linda Sandler, Brian Womack and Douglas MacMillan, "Facebook Fought SEC to Keep Mobile Risks Hidden Before IPO," Bloomberg News, October 10, 2012.
When can Sandler, Womack and MacMillan write a similar piece on Groupon? Not soon enough.
Michael Holland and Luigi Zingales are quoted in the above masterpiece. (If you care about American capitalism, American finance, our technological progress, or the "complete picture" of an "amateurish approach" as described, read and reread this dissection of one Social Network.)
David Kirkpatrick and Paul Kedrosky are not quoted. As far as I know, they, like Holland, avoided the plague. (See their Surveillance Midday appearance the day of the $38 issue.)
What screams out loud pre-, mid- and post- "quiet period" is some/many/all in this 38-penny opera felt they were entitled to a different stage: an original playing field.
David Kirkpatrick must write a sequel to his outstanding The Facebook Effect. Call it The We-Play-by-Different-Rules Effect. Discuss.
Before it's here, it's on the Bloomberg Terminal.
LEARN MORE