The B-School Twitter-Free Zone
Francesca Di Meglio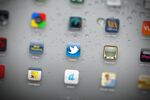 While everyone is tweeting, top business schools are sleeping—or at least that is how it seems. Even though marketing professors at highly ranked MBA programs are espousing the use of social media to keep in touch with consumers, the majority of them are not participating on Twitter, according to data gathered by Jeremy Edmunds, an adviser for social entrepreneurial startups and a 2012 graduate of Duke University's Fuqua School of Business.
Frustrated by the lack of social media participation among faculty, Edmunds found that 34 of the 212 tenure-track faculty at the top 11 MBA marketing departments, as determined by U.S. News & World Report, had ever tweeted. No marketing professors on the tenure track at University of Chicago's Booth School of Business, UC Berkeley's Haas School of Business, and the McCombs School of Business at the University of Texas-Austin had ever tweeted, according to Edmunds's study.
In addition, Edmunds points out in his personal blog that the top tweeters among faculty at all the schools—Jennifer Aaker at the Stanford Graduate School of Business, Dan Ariely of Fuqua, and John Deighton of Harvard Business School—do practically all the tweeting—94.7 percent of it, to be exact. "There's a gap in what's being taught about being close to the customer and the marketing departments," says Edmunds. "By not using social media, they are distancing themselves from consumers."
In his blog, Edmunds makes a compelling case for why marketing professors should be tweeting, noting that the Twitterverse is now a central part of any marketing plan, including brand perceptions and customer feedback. You wouldn't want to learn English from someone who can't speak it, so why would you want to learn marketing from someone who isn't immersed in Twitter, or as Edmunds calls them, the (anti)social marketing gurus?
"It isn't easy to use social media effectively, and experimentation is essential to its mastery," Edmunds writes. "Social media literacy can enhance case study analysis, current affairs, and traditional theory lectures. And learning to listen in a digital sound-bite era will help educators understand their customers' (i.e., students') world a bit better."
Professors have a different take on Edmunds's findings. Pradeep Chintagunta, a marketing professor at Booth who has a Twitter account but doesn't use it, says there are better ways to communicate with students, including face-to-face meetings, and that not using Twitter doesn't prevent him from teaching social media in the classroom.
"Just because I don't use Twitter doesn't mean that I don't have discussions with my students about social media," says Chintagunta. "Everyone recognizes the importance of social media, but it might not be the best use of my time as a professor. Students get more help from one-on-one time."
If Chintagunta sees any potential in Twitter, it's as a way to "expand the lecture" by delivering research links that allow students to dig deeper—not necessarily as a way to learn more about the subject he teaches.
Chintagunta's comments were echoed by Kenneth Wilbur, an assistant professor of business administration at Fuqua, who noted that professors in general aren't big fans of Twitter's hard-and-fast 140-character limit, preferring instead to publish in peer-reviewed journals that give them a bit more space. Wilbur, who spends two hours covering social media in his core marketing class, says "the long, engaging discussions" he has with students are a better use of his time, and more valuable to students, than spending time on Twitter. Asked if familiarizing himself with Twitter as a user might make him better equipped to teach students about social media, he said he'd rather not answer.
Edmunds says the reason people go to business school is to learn from people who are experts in the subjects they're teaching. But when it comes to Twitter, the "experts" need to hit the books. He hopes the data he collected spur schools to consider their use of social media.
"I don't claim to be an expert," says Edmunds. "The schools should encourage experimentation. They should be better at this than I am as a lay person."
Join the discussion on the Bloomberg Businessweek Business School Forum, visit us on Facebook, and follow @BWbschools on Twitter.