MBA Alumni in the News: Oct. 11
Louis Lavelle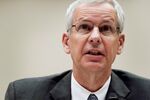 Each week Bloomberg Businessweek brings you an update on how MBA alumni from top business schools are making news—the good, the bad, and the ugly. This week, graduates from Harvard, Columbia, Wake Forest, and Syracuse were among those making headlines.
The Gender Wars: Ellen Pao, the  Harvard Business School MBA graduate who accused Kleiner Perkins of sexual discrimination, said she's been fired, the New York Times reported. In a lawsuit filed in May, Pao claimed she was sexually harassed by another investment partner at the venture capital firm and that when she complained to senior partners, they cut her out of investment decisions and limited her career advancement, claims that the firm denied.
Economic Casualties: Cummins Chief Executive Tom Linebarger said the company plans to cut as many as 1,500 jobs by year-end. The Stanford MBA graduate said capital expenditures by businesses are down amid global economic uncertainty, reducing demand for the company's products.
Tough Talk: Hewlett-Packard CEO Meg Whitman, a 1979 Harvard MBA graduate, issued a grim forecast for 2013, sending company shares to their lowest point in a decade. Said Whitman: "It's going to take longer to right this ship than any of us would like."
Nice Work if You Can Get It: A former CEO of JPMorgan, William Harrison, said the current chief executive, Jamie Dimon, shouldn't face a pay cut over the company's $5.8 billion trading loss. Dimon, a 1982 Harvard MBA graduate, received $23 million in pay and bonuses in 2011, making him the highest-paid chief executive of a major U.S. bank.
Going Once, Going Twice: Telefónica CEO and 1970 Columbia Business School MBA alumnus Cesareo Alierta was said to be selling two of the company's Gulfstream jets. A new jet, a Gulfstream G650, is on order. It will cost more than the proceeds from the sale of the two older aircraft combined.
Let the Merging Begin: Sprint CEO Dan Hesse, a 1977 MBA graduate of Cornell's Johnson Graduate School of Management, was said to be weighing a bid for MetroPCS that tops the proposal made by Deutsche Telekom to combine the company with T-Mobile. Sprint shares have more than doubled since February, when the board last considered—and rejected—a MetroPCS takeover plan. Principal Financial Group CEO Larry Zimpleman, an MBA graduate from Drake University, acquired AFP Cuprum, a Chilean pension provider, in $1.5 billion deal.
Netflix Dodges a Bullet: Dish Network's billionaire co-founder and Wake Forest MBA graduate Charlie Ergen scrapped a plan to turn Blockbuster into a Netflix competitor. When Dish Network acquired Blockbuster out of bankruptcy in April 2011, Ergen planned to use the stores to sell Dish mobile devices that could be used to stream Blockbuster movies, but U.S. regulators didn't immediately approve the plan.
Moving Up: Bausch & Lomb Chairman Fred Hassan, a Harvard MBA alum, was chosen to replace Andrea Jung as Avon chairman at year's end. Jung was Avon's first female chief executive; her tenure was marked by an earnings slump, a takeover attempt, and foreign bribery allegations. Former IBM executive Frank Kern, an MBA alum from Syracuse University's Whitman School of Management, was named CEO of Aricent Group, a technology consultant controlled by buyout firms, including KKR. Kern replaces Sudip Nandy. Nandy, who has an MBA from IIM Ahmedabad, is assuming a newly created position as chairman of India.
Moving Out: Kaiser Permanente CEO George Halvorson, an MBA graduate of the University of St. Thomas Opus College of Business, announced he would retire in 2013. Halvorson has been chief executive since 2002. Sidney Horn, a 1973 Columbia Business School MBA graduate, and three others lost their board seats at Wet Seal in a proxy fight with an activist investor, Clinton Group.
Join the discussion on the Bloomberg Businessweek Business School Forum, visit us on Facebook, and follow @BWbschools on Twitter.