Is It Easier for You to Go and Buy Things in the Stores Than It Was Four Years Ago?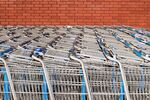 From the tiny increase in median U.S. household income, to the surge in gun sales under President Obama, to a consideration of the Great Recession and the "protracted" recovery, we examine Americans' buying power in the past four years:
Most Other Stuff Costs More, Too
Energy Costs More, but We Use Less

U.S. Households' Buying Power Shrank
In Tough Times, Treat Yourself
Video: Better Off: Stocks Will Never Fully Recover, Right?
Government Debt Is Our Debt, and Other Issues
Bailouts, Deadbeats, and Paybacks
Corporations Are Sitting on $1.7 Trillion in Cash
Video: Better Off: Did Those Bailout Billions Just Vanish?
The Business Cycle Doesn't Care Who's President
The Great Recession: An 'Affair' to Remember
Before it's here, it's on the Bloomberg Terminal.
LEARN MORE