Are We Better Off? You Tell Us
Jared Keller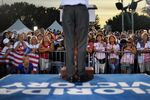 This year's Election Issue of Bloomberg Businessweek tried to answer a simple question: are we better off today than we were four years ago? The question itself has stuck in American political culture since it was first raised by Ronald Reagan in his only debate with President Jimmy Carter:
"Ask yourself: Are you better off than you were four years ago? Is it easier for you to go and buy things in the stores than it was four years ago? Is there more or less unemployment in the country than there was four years ago? Is America as respected throughout the world as it was? Do you feel that our security is as safe, that we're as strong as we were four years ago?"
This question isn't just a complex one, but also a deeply personal one. So as part of this issue, we want to hear from you: Are we better off?
Tell us your story: submit an essay or video on our Facebook page, send us an entry through our Tumblr, leave your response in the comments section, or tag your thoughts in Twitter with the hashtag #betteroff. We'll post our favorite responses right here on Businessweek.com.
Before it's here, it's on the Bloomberg Terminal.
LEARN MORE