What Jack Welch Could Learn From Rupert Murdoch
The former GE CEO ignited a firestorm on Twitter
Jared Keller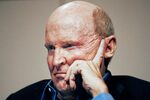 After the U.S. Bureau of Labor Statistics released its latest U.S. unemployment report on Oct. 5, former General Electric Chief Executive Officer Jack Welch set off a social media firestorm with a single tweet suggesting the Obama administration had doctored the numbers for political gain.
Unbelievable jobs numbers..these Chicago guys will do anything..can't debate so change numbers
—Jack Welch (@jack_welch) Oct. 5, 2012
The backlash, as it often is online, came almost immediately. Conservative commentators pounced on the idea that false BLS numbers were simply another casualty of presidential politics, or that the numbers were inflated because Democrats surveyed had simply lied about getting jobs. As economics journalists quickly debunked Welch's claim, figures ranging from Tony Fratto, spokesman for former President George W. Bush, to Austan Goolsbee, former chairman of the Council of Economic Advisers, rebutted the former GE executive with tweets of their own. Welch isn't taking his online flogging well. The blowback was so fierce that Welch announced he would stop contributing articles to Fortune and Reuters.com following critical coverage of his claims, saying that he would get better "traction" elsewhere.
In an op-ed in today's Wall Street Journal, Welch likened the widespread criticism to the atmosphere under a repressive communist regime. "Imagine a country where challenging the ruling authorities—questioning, say, a piece of data released by central headquarters—would result in mobs of administration sympathizers claiming you should feel 'embarrassed' and labeling you a fool, or worse," Welch wrote. "Soviet Russia perhaps? Communist China? Nope, that would be the United States right now, when a person (like me, for instance) suggests that a certain government datum (like the September unemployment rate of 7.8%) doesn't make sense."
Does an elderly CEO seething at the masses sound familiar? It should: News Corp. Chairman and CEO Rupert Murdoch expressed his disdain for the Twittersphere in back in May during the height of the U.K.'s Leveson inquiry into the company's phone-hacking scandal:
Seems impossible to have civilised debate on twitter. Ignorant,vicious abuse lowers whole society, maybe shows real social decay.
—Rupert Murdoch (@rupertmurdoch) May 5, 2012
Murdoch, who began posting on Twitter at the end of 2011, might be a worthy mentor for Welch as the latter seeks to find his footing amid the 'mobs of administration sympathizers' who lurk in the social network's shadows. A powerful executive, unfiltered on Twitter, can make for a public relations disaster, but Murdoch has been cogent and authentic on Twitter, and has conducted himself in a way that's in line with the accepted norms of the ecosystem.
Rupert Murdoch clearly treats his Twitter feed as a soapbox, an opportunity to inject his opinion into the political or economic zeitgeist without layers of PR-speak or legal counsel. His commentary, though interspersed with the occasional misspelling or gaffe, is often insightful without being abrasive or inflammatory. Upon learning of Mitt Romney's gain in the latest Pew poll, he publicly wondered how big the sample size was. Welch, on the other hand, appears to eschew nuance in favor of finger-pointing. When the administration cited an offensive video clip as the cause of last month's protests in the Middle East, Welch quickly (and not too subtly) suggested that 'appeasement' was the larger issue.
Murdoch's feed is a mix of commentary on current events, his personal life, and call-outs to News Corp.'s various successes. He presents himself as a multifaceted, interesting person. "By mixing the personal and political, propaganda and plain old rants, he is serving his interests and the interests of his company," observed New York Times media columnist David Carr. Welch, by contrast, uses his feed almost purely for self-promotion and to criticize the Obama administration. His takedowns of the White House, while interesting to partisans, are baffling or boring for virtually everyone else.
Admittedly, Murdoch and Welch both fail when it comes to an essential part of social media: having a conversation. Neither actively talks with their followers (although Murdoch is somewhat better at responding to messages sent his way) or retweeting any content. But while Murdoch doesn't necessarily speak directly to his followers, he engages in the Twitter space far more than Welch. By honestly addressing various topics—whether it's the fall of MySpace or News Corp.'s phone-hacking scandal—Murdoch presents himself as a genuine, almost likable figure, making his more politically focused commentary somewhat easier to swallow. In contrast, Welch's highly politicized timeline can be polarizing and disconcerting, making it difficult for Welch to find any of the 'traction' he desires, outside the conservative spheres of the Twitterverse.
The key to being successful in the social media space is relatively simple: People want to connect with people more than they want to connect with brands. Despite Murdoch's reputation as the head of News Corp., his Twitter feed feels more human. We can envision the man himself composing his tweets, rather than some executive assistant or communications manager. Welch's adversarial messages and persistent political messaging establishes him in the social space as a person indistinguishable from his political and business affiliations. A word of advice, Jack: When you think about your tweets, focus on being more like Murdoch and less like Donald Trump.
Before it's here, it's on the Bloomberg Terminal.
LEARN MORE