The Ugliest Political Race in America
By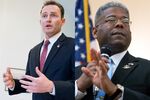 Big Bird may not agree, but the presidential race is downright mild compared with some races down the ballot. The Scott Brown vs. Elizabeth Warren fight for a Massachusetts Senate seat has been notably toxic. But there may be no uglier race in politics this cycle than the contest for Florida's newly created 18th congressional district between the Republican incumbent, Allen West, and his Democratic opponent, Patrick Murphy.
It's no surprise that Democrats are contesting West's seat or that their attacks are especially colorful: West is a Tea Party hero (and one-time columnist for the racy biker mag Wheels on the Road) who got himself elected two years ago in a district that went 51 percent for Barack Obama. He'd be an irresistible target in any cycle, even if he didn't habitually charge his Democratic colleagues with being Communists. As one GOP strategist told the Cook Political Report, voters "either think he should be canonized or they hate his guts." But his challenger isn't exactly Jimmy Stewart in Mr. Smith Goes to Washington. Murphy's arrest record will testify to that. (Charges of disorderly intoxication and possessing a fake driver's licence, filed against him in 2003, were later dropped.)
The race can be boiled down to two hilariously devastating, and quite effective, television ads. First up is West's attack on Murphy for participating in a drunken bar brawl ("covered in alcohol and unable to stand," as the narrator puts it) that features a cameo from his challenger's mug shot:
In most campaigns, that would rate a TKO. But Murphy's rebuttal is no less powerful, stating that West "merited court martial" and was relieved of command as an Army lieutenant in Iraq before winning a seat in Congress:

But the race isn't all anger and vitriol. There's (inadvertent) comedy, too. In their first joint appearance last week, both candidates presented themselves as trying to appeal to voters in the middle.
Before it's here, it's on the Bloomberg Terminal.
LEARN MORE