The Other Affirmative Action Battle: Thomas v. Wells
By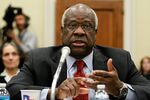 Officially, the Supreme Court is hearing arguments today for the potentially landmark case of Fisher v. Texas. On another level, though, the debate over affirmative action is just the latest chapter in Thomas v. Wells. The move to strike down racial preferences in college admissions brings together two of the most important men in American law: Clarence Thomas and Theodore V. Wells Jr. The first is the most enigmatic member of the Court; the second is among the country's top trial lawyers. One is expected to decide against the practice; the other helped craft the American Bar Association's argument to maintain it.
Both men have benefited from the kind of policy that's being challenged. And both have had opposite views on its merits since 1968, when they met as part of the first group of African American students recruited to the College of the Holy Cross. Back then, their lively debates in the Black Student Union became known as Sunday Night Theater. How they've come to view the impact of affirmative action on society and on their own lives says much about the current divide on racial issues. It also illustrates how hard it is to simplify the debate into neat stereotypes.
Few doubt that Thomas will move to ban the use of race as a factor in getting admitted to the University of Texas at Austin. That's what he argued in 2003 when he dissented from the landmark decision that upheld the practice at the University of Michigan law school. (That was another case in which Wells wrote an amicus brief in support of affirmative action, this time for Black Law Students Associations.) While Thomas has since been famously silent during oral arguments—it's been six years since he asked a question—he has remained an outspoken critic of affirmative action away from the bench.
For Thomas, the second African American to sit on the Supreme Court, the issue is personal. Not only does he feel that efforts to advance minorities have tainted his hard-won achievements; he also argues that those efforts often set up its targets to fail. "You can take kids who want to work hard and put too much on them too soon," he told me earlier this year. "And then we blame them if they don't succeed."
And what about Wells, who now defends politicians and titans of industry as a partner in the law firm of Paul, Weiss, Rifkind, Wharton & Garrison? Along with amassing a client list that has ranged from Citigroup and Exxon Mobil to Eliot Spitzer and Scooter Libby, Wells has done pro bono work for such groups as the NAACP and the United Negro College Fund. He's chairman emeritus of the NAACP Legal Defense Fund Board of Directors. To Wells, affirmative action is not just a tool to broaden opportunities or address barriers that may hold some groups back; it's about recognizing the power of diversity. He believes that everyone suffers when voices are missing from the conversation, whether it's in the law profession or a college classroom. Those voices have to be qualified. They have to hold their own. But institutions should be allowed to make a special effort to get those voices there.
What's equally striking, though, are the similarities between Thomas and Wells. Both came of age in the era of civil rights and have fought against racial stereotypes. For Thomas, the anger is directed at assumptions that he has to think or act in a certain way because he's black. That seems to have only reinforced his fidelity to social circles that are staunchly conservative and primarily white. (Still, he'd probably take issue with Fox News anchor Megyn Kelly's coverage of Fisher v. Texas, in which she said, "students of color argue that for decades they've been kept down in terms of university admissions.") For Wells, the focus is on how racial stereotypes limit the perception of what a black person can or can't do, including among African Americans themselves. One of his goals in building a traditional law career: to make it seem routine that a top white-collar defense lawyer happens to be black.
Even with their opposing views, it's clear that both men care deeply about racial injustice and the power of education. For Wells, school is not only the pathway to success; it's the environment where values are formed, issues are studied, and stereotypes are challenged. That's why he argues that diversity is so critical to maintain.
Thomas's real beef with affirmative action is less about its impact on one's ego than its impotence in addressing what he sees as the deeper issues that impede African American success, from broken families and too few role models to schools that leave people ill-prepared to handle the burden of college. While much is made of Thomas's self-imposed isolation from the black community and the judicial decisions that have hurt African Americans, little is known about his efforts quietly to mentor students. Both he and Wells say they owe a special debt to Father John Brooks, a man who mentored them at Holy Cross, the white Catholic college in Worcester, Mass., where they got their undergraduate degrees. Both came away with the tools to succeed. More than four decades later, they're now contemplating how others can too.
Diane Brady the author of Fraternity, a 2012 book about the college years of Thomas, Wells, and the other young men whose lives were changed by a visionary mentor.
Before it's here, it's on the Bloomberg Terminal.
LEARN MORE