Odd Jobs: The Picasso of Parking Lots
Eric Spitznagel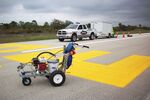 Corrects spelling of Colombia in 1st paragraph.
Chris Couri, 36, is well aware that at least part of the reason for his company's success is its racy and admittedly juvenile name: We Do Lines. "People are always taking pictures of our vehicles and the trailers, posting them on Facebook," he says. The name is intended to call to mind a certain illegal narcotic that's typically imported from Colombia and consumed through the nose. "What better way to grow a brand," offers Couri, "than free publicity that's generated from the name?"
The actual lines done by the Ridgefield, Conn., company are of the pavement variety: It paints lines in parking lots. This is a peculiarly small specialization that has grown from a three-person operation in 2008 to a nationwide enterprise, with 17 locations from New York to North Carolina to Ohio. It recently expanded to the West Coast, opening a franchise just outside Phoenix. "Dry and hot is the best weather for us," says Couri. Most of the paint jobs can take up to 30 minutes to dry, but in Arizona's triple-digit temperatures, "our paint dries within minutes."
While Couri admits that painting lines isn't "rocket science," he claims to bring a level of professionalism and organization to an industry sorely lacking in both. As co-owner of a landscaping operation in Connecticut, he had "horrible experiences with line painters." He soon proposed a new business venture to his landscaping partners, Daniel Rella and Tom Darrow. "One of the things that attracted us about line painting was that it's largely off the radar," he says. "There's virtually no competition. Everybody knows that parking lots have lines, but nobody knows how they get there. There's no premier provider."
One of their first clients was the Doral Golf Resort & Spa in southern Florida, now owned by Donald Trump. "That's when I knew we could make this work," he says. "Doral is a long way from Connecticut. But they came to us and we ended up reconfiguring all of their golf lines." Since then, the company has created lines for dozens of "big box stores," Couri says, including Starbucks, Target, Toys R Us, Dunkin' Donuts, and Pepperidge Farm. We Do Lines has also painted tarmac and runway markings for such East Coast airports as Danbury Municipal in Connecticut, Cleveland Hopkins, and Boston's Logan Airport.
Parking lots, says Couri, can be like war zones. According to the Insurance Institute for Highway Safety, parking lot accidents account for 20 percent of car crashes. "From my experience, people typically drive a lot worse in parking lots than they do on the road," Couri says. "As many signs and caution tape as we put up, there's always going to be somebody who just doesn't pay attention." None of his staffers has ever been hit by a car—they mostly work at night to avoid on-job injuries—but Couri says he's lost a small fortune in orange cones over the years. "We've had people drag cones for 200 feet," he says. "And then they're like, 'What are you going to do about the paint on my tires?' You try to be polite, but it's hard not to say, 'Hey, if you didn't drive through the cones, we wouldn't have this problem.'"
For the actual painting, the workers at We Do Lines use the latest equipment available, machines that can cost more than $20,000 and require weeks of training to operate correctly. Even with the advanced technology, Couri expects his line artists to be meticulous. "Our linear marking technicians are able to apply the paint right down to the millimeter thickness required for each job," Couri says. Creating a line design for a new parking lot—or "blank canvas," as unmarked pavement is called in the line-painting industry—can involve complicated geometry. "If you're not paying attention," he says, "you'll end up with an hourglass line, where the width goes in and out. And then there's angled spaces, where the pavement is uneven and you have to figure out if it's on a concave or convex curve. There are so many factors. We spend a lot of time measuring and chalking out lines."
Although We Do Lines has no shortage of customers, Couri admits to a dream project. "I'd love to do the Mall of America parking lot," he says. "I think they have something like 10,000 spaces over there." When told that it's actually 12,550, with a major renovation planned for 2012 that could bring in an additional 8,000 spaces, Couri is briefly speechless. "Wow, that's … wow," he says. "Getting a job like that. … it would be a nice feather in our cap."
Before it's here, it's on the Bloomberg Terminal.
LEARN MORE