Nick Bennenbroek Is All Black
by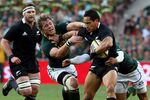 In the near term, we believe ECB policy actions could offer some support to the euro as the worst-case scenarios are priced out. The dollar's weakness in late 2012 is temporary and related to near-term developments in the European debt crisis.
—Nick Bennenbroek, head of currency strategy, Wells Fargo Foreign Exchange, in Allison Bennett and Anchalee Worrachate, "Most-Accurate Forecasts Say Dollar Beats QE3, Euro Tops Yen," Oct. 9, 2012.
The All Blacks have held the top ranking in the world for longer than all other countries combined and in over 100 years only five test rugby nations have ever beaten New Zealand.
—New Zealand National Rugby Union Team, Wikipedia.
What is in the air over at Wells Fargo?
Bennenbroek and colleague Vassili Serebriakov have penalty kicked the oval-shaped ball out of Rugby League Park, Christchurch (now known, I believe, as AMI Stadium. May we have a moment of naming-rights silence in respect of Yankee Stadium and Fenway Park?).
I bring this up as Bennenbroek, of New Zealand and the University of Waikato, has vanquished FX elite in the past tumultuous four quarters.
What you need to know is Bennenbroek suggests "scenarios will be priced out" across doom-and-gloom Europe.
What you need to know is earning our currency beauty-contest "Cup" across the four-quarter Bennenbroekian ether is equivalent to a combined ITM Cup, Bledisloe Cup, Freedom Cup, Webb Ellis Cup, and Heineken Cup. (I have no clue which Cup is most valued, except beating the dreaded Springboks of South Africa trumps all.)
See the Wells Fargo team warm up here.
Abhor European gloom! To a Rubinesque dollar! Nick Bennenbroek is All Black. Discuss.
Before it's here, it's on the Bloomberg Terminal.
LEARN MORE