It's Not Currency That's Sapping U.S. Confidence in China
By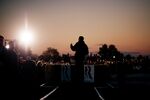 Mitt Romney rarely passes up an opportunity to attack President Barack Obama for failing to pressure China to stop undervaluing its currency. If he wins the election, Romney has said that his administration will move to label China a currency manipulator on Day One. Some of Romney's own economic advisers have questioned the wisdom of doing that, arguing it could spark a trade war.
The latest piece of evidence against such a strategy comes not from academics, but from the business community. Every year the U.S.-China Business Council, which represents 240 major companies operating in China, including exporters like Apple and Nike, publishes an annual report about the business climate there. In the latest report (PDF), as last year, currency failed to make the top 25 issues of concern to members. The main reason: More respondents say that they're in China to reach the growing class of Chinese consumers, not to export back to the U.S.
Boeing, for example, has a 52 percent share of China's commercial aircraft market and now counts China as its biggest customer outside the U.S., according to Richard D'Aveni, professor at the Tuck School of Business at Dartmouth College. Yum! Brands, which owns KFC, earned roughly 40 percent of its 2011 revenue in China. "At the end of the day, if a country says you can't operate in this market, that's a far more difficult issue to get around than currency," said Marc Ross, spokesman for the U.S.-China Business Council.
U.S. executives, according to the survey, are concerned about talent recruitment, getting business licenses, competition with Chinese state-owned firms, cost increases, and intellectual-property protection—in that order. Companies are less optimistic about their business prospects in China than they were three years ago. China's recent economic slowdown is one reason for that, but so is a rising concern about favoritism given to Chinese companies in the market. Many companies say that they can only expand so far into certain sensitive industries, such as oil and information technology, before hitting a ceiling in which the government makes it difficult to expand. D'Aveni says foreign firms have less industrial output in China today than they did in 2003.
Chinese state-owned enterprises are crowding U.S. firms outside China as well. Since 2006, the value of mergers and acquisitions by Chinese companies outside China has doubled to about $70 billion, according to Bloomberg Government. Xinhua, the Chinese state-owned media company, competes head to head with the BBC and the Associated Press in developing countries. Since 2004, three Chinese government-owned oil and gas companies, PetroChina, Sinopec, and CNOOC, have become the biggest players in Canada's oil and gas industry, also according to Bloomberg Government.
The Obama administration is stepping up pressure on China's state-owned enterprises. On Wednesday, the Commerce Department set duties of 18 percent to 250 percent on Chinese solar-energy products. In 2010, the U.S. brought a case with the World Trade Organization on behalf of U.S. credit-card issuers, who said they were being pushed out of China's fast-growing electronic payments market by state-controlled China UnionPay. This summer the WTO ordered China to stop discriminating. And the U.S. has inserted a chapter on state-owned enterprises into the Trans-Pacific Partnership, a sprawling free-trade agreement being negotiated with Asia. The administration hopes the chapter will change the rules of the road by forcing countries to make state-owned enterprises more transparent. But given the delicate dance that is U.S.-China relations, many companies question whether the government can really make a difference.
Before it's here, it's on the Bloomberg Terminal.
LEARN MORE