Gillard's Picture of Sexism, Misogyny Looks Familiar
Video of the prime minister's speech has rocketed across the web
By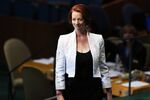 Watching a widely circulated video of Australian Prime Minister Julia Gillard skewering the leader of the opposition party, Tony Abbott, left the impression that Australian politics is barely a notch above a Wall Street trading room circa 1990 in terms of its enlightenment towards women—which makes Gillard's presence at the top of it even more remarkable.
Gillard was reacting to Abbott's attempt to take the moral high ground in a conflict over the since-resigned House Speaker, Peter Slipper, who is embroiled in a scandal over sexist text messages he sent to a former staff member. "I hope the leader of the opposition has got a piece of paper and he's writing out his resignation because if he wants to know what misogyny looks like in modern Australia, he doesn't need a motion in the House of Representatives—he needs a mirror," Gillard blasted, before listing examples, including Abbott's suggestion that "men are, by physiology or temperament, more adapted to exercising authority or to issue commands" and his having called her a "witch" and a "bitch."
The environment Gillard describes may be familiar to longtime female executives on Wall Street, where in the old days, at least, they might find condoms on their desks or strippers in the trading rooms. Gillard's rant likely wasn't surprising to female politicians, either. When asked if she'd encountered any of the behavior Gillard described during her time in Washington, former Illinois Senator Carol Moseley Braun said, "'Yes' is the short answer." She went on: "It struck a nerve. They do the locker room macho routine and then they turn around and troll for women's votes and support. [Gillard's] point was that you can't have it both ways."
Before it's here, it's on the Bloomberg Terminal.
LEARN MORE