ForumWatch: Expanding the MBA Job Hunt
Francesca Di Meglio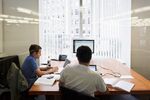 Anyone who thinks jobs are simply handed to MBA students is living under a rock. Just ask the aspiring MBAs who visit the Bloomberg Businessweek Business School Forums. They often come to the site to ask questions about the job hunt and to vent their concerns about being able to find a job after graduation. Some even question whether they should get an MBA because they wonder if the jobs that are available are good enough—if they're worth the time and effort and financial investment that an MBA requires.
Recently, greenteamlp visited the forums to take a different approach. While expressing concern that finding a job after getting an MBA might be as hard as finding one after college, greenteamlp asked about a possible job-search venue that many MBAs may not have considered: business plan competitions. Share your thoughts by visiting the "Business plan competitions to land a job" discussion thread.
Editor's Note: This blog post is part of a series about discussions taking place on the Bloomberg Businessweek Business School Forums where prospective MBA program applicants, current students, and recent alumni trade admissions tips, job-hunting advice, and the occasional barbed comment. We invite you to join these discussions or start one of your own.
Before it's here, it's on the Bloomberg Terminal.
LEARN MORE