China Auto Buyers Shun Japanese Cars in Islands Tiff
By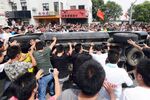 Further evidence that the fight over uninhabited islands in the East China Sea is having an impact on the global economy: Auto sales in China fell in September for the first time in eight months, the China Association of Automobile Manufacturers announced on Wednesday. That's largely because Chinese consumers are staying away from Japanese brands.
The overall drop was small—just 0.3 percent—but Japanese automakers endured much steeper declines, with Toyota, Honda, and Nissan (7201:JP) all reporting big drops in China sales after Chinese protesters targeted Japanese car dealers and other businesses to express their anger over the Japanese government's purchase of the island group, called the Diaoyu in Chinese and Senkaku in Japanese.
Toyota's China sales plunged 49 percent last month, compared to September 2011. Honda was off 41 percent and Nissan was down 35 percent.
If the territorial dispute doesn't subside soon, anti-Japanese sentiment in the world's biggest auto market threatens to mar prospects for companies such as Nissan that have major hopes for the Chinese market. In May, Nissan's chief executive officer, Carlos Ghosn, was in Hong Kong to open the global headquarters for the company's luxury brand, Infiniti. The idea was to base the brand in Hong Kong, rather than back in Japan, in order to be closer to the vital Chinese market.
Automakers aren't the only ones suffering from the impact of the islands dispute. Japanese airlines are hurting as fewer Chinese tourists travel to Japan, and China's central bank governor, Zhou Xiaochuan, is staying away from IMF and World Bank meetings in Tokyo, the official Xinhua news agency reported on Tuesday.
That's a bad sign because the two sides need to talk. "If China and Japan are to swiftly resolve the conflicts diplomatically, the likely economic impact would be minimal," Hong Kong's Trade Development Council said in an article published on its website on Oct. 5. "However, with no immediate signs that such conflict could be so resolved, it would hardly be surprising that sour bilateral relations could translate, directly or indirectly, into real economic damage to both Chinese and Japanese economies."
Not every foreign automaker is feeling the heat in China. Korean automakers Hyundai (005380:KS) and Kia (000270:KS) enjoyed sales increases of 9.5 percent last month, they announced on Sunday, to a combined 127,827 vehicles. Audi (NSU:GR) sales jumped 20 percent. And on Wednesday, Ford Motor announced that its Chinese sales for the month of September rose 35 percent, to 59,570 vehicles. That's a company record for monthly sales in China and is part of a broader upswing for the company, which has enjoyed an 11 percent increase in China sales this year, the company announced in a statement.  The results were "overwhelming," Dave Schoch, chairman and CEO of Ford Motor China, said in a statement.
So far, General Motors hasn't been able to benefit as much from the anti-Japanese backlash. The biggest American automaker revealed Oct. 8 that it, too, saw sales increase in September. However, GM grew at its slowest pace in eight months, increasing just 1.7 percent, to 244,266 cars and minivans. Although GM sold more Chevies, its sales of Buicks and Cadillacs fell, leading to the disappointing results.
Those underwhelming numbers point to a bigger problem for GM. At a time when its Japanese rivals are reeling as Chinese set fire to Japanese dealerships and overturned Japanese cars, GM should be doing a lot better in the Chinese market.  Fixing this problem is bound to be a top priority for Robert Ferguson, a former telecom exec whom GM has just appointed to lead its Cadillac brand globally.
Before it's here, it's on the Bloomberg Terminal.
LEARN MORE