Take 2 Asprn+Txt Me in AM
By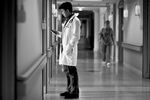 Doctors who don't like electronic health records often complain that the software is cumbersome to use. Patients fear that confidential information about their health will be exposed. Imprivata, a 220-employee company in Lexington, Mass., helps hospitals solve both problems with systems that let staff sign into and out of shared computers with a fingerprint or swipe of an ID badge, keeping records secure without slowing down doctors. Some 1,200 hospitals in the U.S. and Europe use it, and the privately held company expects $60 million in revenue this year, says Chief Executive Officer Omar Hussain.
Now Imprivata is betting it can solve the same dilemma for doctors who want to communicate by text message. If doctors and hospital staff text each other about patients—say, to tell a physician in a different department about the condition of a patient on the way—it can violate the strict privacy laws intended to protect people's personal health information.
"There's a tension between security and efficiency," says Dr. Sean Kelly, Imprivata's chief medical officer, who also works in the emergency room at Beth Israel Deaconess Medical Center in Boston. The company's new app, called Cortext, links doctors' smartphones into a hospital's directory and lets them send texts and images to other users on the system. The messages are encrypted and archived securely, not stored on wireless carriers' servers or on individual phones that could be compromised. Other companies that make secure text messaging software, including TigerText and Gryphn, are targeting health-care providers, too.
About 60 hospitals have tested the free beta version of Cortext, which staff can download from the Android or Apple app stores once a hospital signs on. In the full version of the app, which launches on Tuesday, Oct. 9, hospitals can pay up to $5 per user per month for message archiving and tech support.
Privacy concerns have held the medical industry back from adopting many of the ways other businesses share information. Fax machines gather dust in most offices, but faxing is common in hospitals and doctors' offices because it offers greater security than e-mail does. (Many practices use secure digital faxes that never print anything out.) Kelly says secure text messaging is better than pager systems still found in hospitals because a pager is one-directional: The recipient can't respond to a message on the same device.
"Increasingly, referrals are being done now by text messaging and personal cell phones," says Dr. Marty Makary, a surgeon at Johns Hopkins Hospital and author of Unaccountable (Bloomsbury 2012), a new book chronicling dangerous conditions in hospitals. He says that many problems in hospitals stem from communication breakdowns. "You hear a lot of doctors complaining about getting a message that somebody is in distress, but they don't know where the patient is located," he says. Secure texting might improve communication, although Makary says such short messages often aren't the best way to send complex patient information. "Nothing really is a good substitute for a doctor-to-doctor conversation," he says.
Hussain, Imprivata's CEO, hopes one day to enable doctors and patients to text back-and-forth directly. "It could be a mechanism by which—post-discharge—you can follow up with a patient in the first 24 or 36 hours to see if they took their medication," he says. By then, doctors will have figured out how much to bill for a text.
Before it's here, it's on the Bloomberg Terminal.
LEARN MORE