More From Olivier Blanchard, the IMF's Dovish Economist
By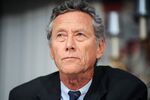 Under Olivier Blanchard, its chief economist, the International Monetary Fund has transformed itself from a strong voice for strict austerity to a strong voice against strict austerity. The latest example is an explanatory box in the IMF's World Economic Outlook. In it, Blanchard and IMF economist Daniel Leigh present research showing that deficit reduction has harmed growth far more than is commonly understood.
The research (in box 1.1) is technical, but the big idea is that Blanchard and Leigh compared forecasts of nations' economic growth with what actually happened after countries tightened their belts. They found consistently that growth came in worse than expected, which means that the belt-tightening was more harmful than economists believed it to be—by a lot. Economists have assumed that cutting the government deficit by 1 percentage point cuts about half a percentage point off economic output, but the actual decline is more like 0.9 percentage points to 1.7 percentage points, Blanchard and Leigh write.
"This finding is consistent with research suggesting that in today's environment of substantial economic slack," cutting deficits wallops an economy when interest rates can't be cut any further and many countries are slashing deficits at the same time, they write.
This isn't the tune that the IMF was singing in the late 1990s, when it insisted that stumbling nations such as South Korea implement draconian measures to rein in budget deficits. The change of heart—which Bloomberg View praised in an Oct. 9 editorial—came about partly because the old remedies failed and partly because of the ascendancy of new thinkers like Blanchard, 63, a French citizen who has been the IMF's chief economist since 2008.
Blanchard earned his PhD in economics from Massachusetts Institute of Technology and taught there from 1982 until taking the helm at the IMF, where his official title is economic counselor and director of the research department.
Blanchard was even more dovish in a 2010 Staff Position Note (PDF), in which he and colleagues questioned whether central banks should aim for an inflation rate of 4 percent, rather than 2 percent. Federal Reserve Chairman Ben Bernanke and others vigorously opposed the idea.
Before it's here, it's on the Bloomberg Terminal.
LEARN MORE