Merkel in Greece: Smart Diplomacy or Wishful Thinking?
Nick Malkoutzis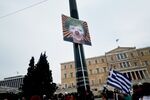 Greek Prime Minister Antonis Samaras and several of his ministers lined up patiently on the tarmac at Athens International Airport on Tuesday to welcome German Chancellor Angela Merkel to Greece, on her first visit to the country since its mounting debt tipped it into its worst postwar economic crisis. Merkel insisted that she was not coming to act as a "schoolmistress who wants to grade Greece."
As a fact-finding mission, a few hours in Athens could not have told Merkel much that she did not already know about the problems facing the Greeks. A five-year recession, unemployment that is nearing 25 percent, faltering banks that have yet to be recapitalized, a lack of liquidity, and a public debt that refuses to come into line with the forecasts made by the European Commission, the European Central Bank, and the International Monetary Fund—the troika that is managing the Greek bailout—have been features of the Greek crisis for some time.
Instead, Merkel's visit was more about a show of support for a country that has teetered on the brink of a euro zone exit since 2010 and which many of its partners fear is a lost cause. "This visit marks the end of our isolation in Europe," said Samaras following his talks with the German leader. The Greek prime minister said Greece was winning back credibility thanks to the commitment of his three-party coalition government to structural reforms and its agreement to the latest austerity package of 13.5 billion euros, or about 5 percent of Greek GDP, with the troika.
There were about 50,000 people on the streets of Athens, and likely many more at homes and offices, who disagreed with this view. While some protesters chose to liken the German leader to the Nazis who occupied Greece in World War II, the majority demonstrated against the continued austerity that has seen salaries and pensions plummet and taxes rise. Alexis Tsipras, the leader of Syriza, the anti-austerity leftist party that almost scored a shock win in June's national elections, took part in the protest and conjured up a new word to describe the Greek coalition chiefs who are negotiating with the troika: "Merkelistas." Tsipras's suggestion that Samaras and his government colleagues are simply toeing Germany's line by agreeing to further spending cuts underlines how fragile the political balance in Greece has become as society feels the strain of a Great Depression-sized collapse.
"I have come here today in full knowledge that the period Greece is going through right now is an extremely difficult one for the Greeks and many people are suffering," said Merkel, acknowledging the massive fiscal adjustment that has been made since the crisis began and that Greece will need time to reform its economy and public sector. In the months to come, Germany and other euro area members are likely to be called on to show their solidarity for Greece in a much more tangible way than just through words of understanding. The IMF insists it will not continue to provide funds for the Greek bailout if the country's debt is not put on a path to sustainability. This means the Europeans will either have to accept a restructuring of what Greece owes to the ECB and euro zone states or continue funding Greece without the IMF's input. Convincing indecisive euro-zone leaders and her own people ahead of federal elections next year that either of these courses is correct will be the true test for Merkel.
Before it's here, it's on the Bloomberg Terminal.
LEARN MORE