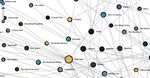 If you're a Seattle music nerd who hasn't yet experienced the sonic joys of Beer Sandwich, Slomo Rabbit Kick or Dub Narcotic Soundsystem, don't worry: They won't be slipping into oblivion, thanks to the intense curating work of musical historian Rachel Ratner.
The "Seattle Band Map," which Ratner spawned with help from Keith Whiteman, allows musical completists to slowly work their way through the entire band scene of Jet City since the 1960s. The nodule-pocked network shows how every band interrelates with the others, as Ratner explains:
The Seattle Band Map explores how bands from the Pacific Northwest are interconnected through personal relationships and collaborations.

Bands are connected if a) they share band members or b) two artists have collaborated on a project. For the purposes of this map, to qualify as a band, a project must have recorded and publicly shared at least one song and/or played a public show.
In its physical form, this teeming display of musical incestuousness spans a board measuring 8 by 12 feet, as its makers discovered when they took the map on tour in 2010. Online, it squeezes down into a few square inches of amazing complexity:

Click to see the complete interactive map

The map relies partly on crowdsourcing, so if your basement band with its one release isn't on here you can tip Ratner onto that fact and go down in history six degrees from Pearl Jam. There's also a search function that provides confirmation for band-name memes, like the ridiculous persistence of "wolf" variants: I spot on this network Cobra Wolf, Steaming Wolf Penis, Winston Wolff, Raised By Wolves and Wolves of Greece.
The most connected band, according to the map? That'd be the Unnatural Helpers, with 43 connections. In your face, grunge.