The Marketing Executive Who Became a Voice Actor
By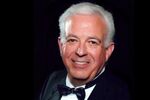 Dana Marks has a deep, strong, and kindly voice that one might associate with, say, a small-town sheriff, or maybe a rancher. "You ought to be on FM radio," his colleagues at IBM used to tell him. As a marketing manager for 15 years at the company (after 15 years as a programmer), Marks's vocal talents were put to good use. IBM trained him to deliver presentations to executives, and he worked on campaigns and organized product launches and events around the world, including a debut tour of Java in 43 cities during 1997.
"I'm not the typical nerd you think of when you think about programming," he says. "I'm outgoing and affable, and I like talking to people and doing things with other people. It's not just lock me in a room and I'll write code for you."
After his three decades at IBM, Marks went on to do marketing work for other firms in 1999, including Oracle and Weber Shandwick. When IBM acquired his most recent employer, Silicon Valley tech company Transitive, in 2008, he was laid off. Already in his 60s, he thought, "I am too young to retire."
Marks, now 66, has become a full-time voice actor. Through demos on voice-over talent marketplace Voices.com and his own website, the Cupertino (Calif.) resident has landed more than 20 jobs since 2010, including voice-overs in company videos, Web ads, and phone systems, in addition to dozens of public service announcements. For fun, Marks also developed a few character voices, including a "bad Foghorn Leghorn imitation," a squeaky, high-pitched voice, and a gravelly prospector voice. His dream gig: doing a national ad for a company such as IBM, AT&T, Verizon, Sprint, Ford, or Chrysler. "There's real money associated with those," he says.
DANA'S BEST ADVICE
1. Stay self-assured. When dealing with a layoff, keep in mind that it's probably not personal. It's not a measure of your worth as a human being.
2. Market yourself. Being a one-person business is more marketing and sales than actual work. If you're not comfortable with that, you're in the wrong business.
Before it's here, it's on the Bloomberg Terminal.
LEARN MORE