MBA Journal: From Retail to B-School
Kristen Jones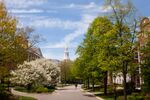 My name is Kristen Jones, and this fall I'll be heading to Harvard Business School to start (and, I hope, finish) my MBA. Let me tell you, I'm pretty pumped about it. The road here was hard, frustrating, and long. Applying to business school is honestly one of the toughest things I've done in the last few years—not just because of the well-known pain points (GMAT, anyone?), but because of the months-long soul-searching process it requires.
I, like many people, began my business school application process with this thought: "I would like to do something different with my life, and though I'm not entirely sure what, I think an MBA will help me get there." That was in June 2010. Fast-forward two years, 24-plus essays, two painful GMAT exams, 11 campus visits, and $1,250 in application fees later and here I am: about to embark on what will likely be two of the most exciting years of my life.
But more on that later. As this is the first of my journal entries, we should probably start at the beginning. I graduated from college in 2008 with a degree in philosophy. I spent the last four years working in the retail industry—first for Sears as an analyst, then for a much smaller company called DJ Networks as a fashion buyer. And I am an aspiring entrepreneur (who spent last year writing about my business ideas in the blog "KJ's Big Ideas").
Retail has been a fantastic pre-MBA industry, because I know I am entering business school with a strong knack for understanding and pleasing the customer. The reason I decided to transition into buying is because I realized I didn't want to just work in retail; I wanted to know retail. Not only are buyers most intimately connected to the customers via their product selection process, they're also the people most intimately connected to the rest of the organization. I am thrilled to have gained such a strong foundation in such an important industry, and it will serve me well at business school.
Given all that, you may be wondering why I am leaving a job I have loved to explore the unknown at business school. Remember that soul-searching process I mentioned before? It started with this question. Here are a few of the answers I have come up with, so far: Retail is great, but the business world is vast. I don't want to pigeonhole myself prematurely (and believe me, it is easy to do in this industry). Also, I would like to think that the lessons I have learned are applicable elsewhere, perhaps to banking, marketing, or even one of my entrepreneurial pursuits. The third answer is … I am not entirely sure. Lucky for me, I am headed to a school where being unsure is embraced. An MBA is supposed to be a transformative process, and I, for one, cannot wait to get started.
Between journal entries, you can keep track of Kristen's business school adventures at the Business Schools Facebook page. Follow the Bloomberg Businessweek B-Schools team on Twitter.